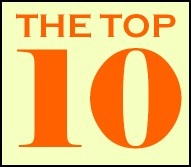 Since everyone else is doing end-of-year retrospectives, I thought I'd chime in with a list of the ten most-commented-upon posts here at The Big Questions blog in the year 2009. Now, this blog is only two months old, but we've already had roughly 75 posts, so a top 10 list at this point is perhaps not too presumptuous.
Of course, the number of comments may be a poor predictor of post quality. So after I give you the Top Ten, I'll point you to a few others that I think equally worthy.
That having been said, the Top Ten are:
In tenth place, Brain Teaser, wherein the puzzle I used as a lead-in got far more attention than the meat of the post itself. That's okay; it's a good puzzle.
In ninth place, What Are You Surest Of?, wherein I asked what you're surer of than you are of evolution.
In eighth place, Trading Up was the first of several posts on the case for free trade. Notable followups include Krugman: The Flip Side and The Sierra Club. Or, in a lighter but no less telling vein, The $10,000 Suit.
In seventh place, Thoughts on Health Care Reform, where I argued that insurance is not part of the solution; it's part of the problem.
Here the notable followups include Playing Politics, Making Health Care Work and our first video post, Is Health Care a Right?—The Movie.
In sixth and third places, we have the two posts where I presented the questions from the honors exam I administered at Oberlin College: The Honors Class, Part I and The Honors Class, Part II. The notable followups, of course, were the posts that revealed the answers: The Big Answers, Part I and The Big Answers, Part II.
In fifth place, Krugman to the Rescue, wherein I lament Paul Krugman's excessive investment in forgetting what he knows about economics.
In fourth place, There He Goes Again wherein I lament Richard Dawkins' odd notion that explaining life is the same thing as explaining the Universe.
In third place—I already told you what's in third place!
In second place, Blind Justice, where we tackled the ethics of discrimination. There was notable follow-up discussion over on the Rust Belt Philosophy blog, and more here at The Big Questions in the Analogize This thread.
Finally, in first place, we have Non-Simple Arithmetic, on the complexity of arithmetic. It's a bit of a fluke that this landed in first place, since the great flurry of comments consisted almost entirely of a back-and-forth between me and one extremely persistent and extremely dissatisfied poster. Still, I like this post and am glad to see it on the list. If you like this sort of thing, you might also enjoy my posts on Godel in a Nutshell and Principia Mathematica: The Comic Book.
Finally, here are a few of my favorites that didn't make the Top Ten for comments, though that might just mean they were uncontroversial. Or to put this another way—maybe these posts were so perfect that readers thought they had little to add!
I'm taking New Year's Day off. I'll see you Saturday.