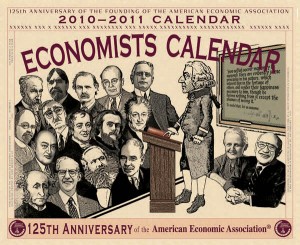 If you were choosing 18 economists to highlight in a calendar, who would they be?
The American Economics Association has chosen, among others, Karl Marx, John Maynard Keynes, Milton Friedman, George Stigler, Friedrich von Hayek, Joseph Schumpeter, Adam Smith and Joan Robinson. (Can you identify the rest?) I haven't yet held the Economists Calendar in my hands, but the reliable Mark Skousen has, and his verdict (via private email) is "Bravo!"
The calendar includes, according to Skousen, "an amazingly complete listing of top economists through the ages", along with the featured 18. There's still time to order before Christmas.
[Click here to comment.]