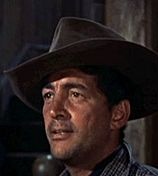 Over at Overcoming Bias, Robin Hanson blogs about a science fiction novel that posits a world where people routinely sell shares in their future income. (I have not read the novel, which is called The Unincorporated Man.) Robin laments that while many reviewers have taken it for granted that we wouldn't want to allow such contracts, none seem to have seriously engaged the idea.
I'm not sure if this counts as serious engagement, but I am reminded of the apparently little-known fact that the singer/actor/TV phenomenon Dean Martin did exactly this. In fact, he overdid exactly this. By the time he was 27 years old, Martin had sold 10% of himself to MCA Records, 20% to his manager DIck Richards, 35% to his other manager Lou Perry, and 25% to the mobster Frank Costello. That left him with 5% of himself—"$50 for every grand he made" in the words of writer Nick Tosches. A year later, he hired yet another manager and sold him another 10%. Having now sold 105% of himself, it became imprudent to earn money. Therefore, in need of something to live on, Martin sold yet another 10% of himself to nighclub owner Angel Lopez.
It took two years of bankruptcy proceedings to untangle the mess and give Martin a fresh start. (The story is engagingly told in Tosches's book Dino: Living High in the Dirty Business of Dreams.)
Is there something about this kind of contract that particularly invites fraud?