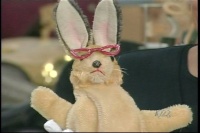 Do you remember Mister Bunny Rabbit?. He was a friend of Captain Kangaroo. One day long ago, when I still measured my age in single digits, Mister Bunny Rabbit announced that he owned a book containing the answer to every possible question. I was skeptical about that book, and so was the Captain, who scoffed mightily at the notion. By way of a test, he looked up the question "Where is Mister Green Jeans right now?". The book's answer was "In the attic", which the Captain knew (I forget how) could not possibly be right. While the Captain was still gloating, Mister Green Jeans ambled in and mentioned that he'd just come from the attic.
The Captain was amazed, and so was I. Long into adulthood, I pondered how that book could possibly have known where Mister Green Jeans was. The best answer I ever got was from the journalist Chris Suellentrop, who speculated that it was probably one of those quantum mechanical things where the act of asking the question caused both the book and Mister Green Jeans to settle down from a cloud of possibilities into mutually compatible states. Others—not so very long ago—speculated that perhaps the book was controlled by a satellite operating a surveillance camera.
Nowadays, of course, we can all carry that book in our pockets. I wonder if today's children would find anything particularly magical about a reference work that has the answers to pretty much everything, and updates them on the fly.
Click here to comment or read others' comments.