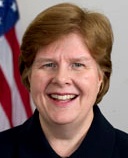 The White House has dispatched Christy Romer, a distinguished economist and chair of the President's Council of Economic Advisors, to rustle up support for emergency spending to keep teachers employed. Her piece in the Washington Post is remarkable for a complete absence of arguments in favor of spending this money on teachers as opposed to say, plumbers or cab drivers or pharmaceutical researchers or computer programmers or minor league ballplayers. (See for yourself.)
So why the singular focus on teachers? The answer, of course, is that unlike plumbers or cab drivers or pharmaceutical workers or computer programmers, teachers, through their unions, were major contributors to the Obama campaign.
All victorious politicians engage in the unsavory practice of diverting spoils to their most vigorous supporters at everyone else's expense. In this, the current administration may be no more blameworthy than any other. But I'm pretty sure that sending out the chair of the Council of Economic Advisors to defend these political payoffs marks a new sort of low. Traditionally, the Council is composed of first-rate academics whose job is to give good counsel and remain above the political fray. Shame on the President for debasing that noble mission, and shame on Christy Romer for going along with it.
Click here to comment or read others' comments.