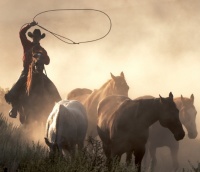 We led off the week with a diversion that might have been premature in the sense that I can do more tricks now than I could then, and a bit more gracefully too, I think. More video when I feel ready to graduate to actual fire.
Next a post on the different kinds of logic, and a related post on what it all means.
Sadly, the latter continued to draw comments from readers who want to "define the natural numbers via axioms", whereas the whole point of these posts is that nothing of the sort is possible.
On Thursday I took issue with Robin Hanson's take on polygamy; Robin responds here.
And on Friday I pointed to an unconventional high school valedictory speech.
Note to RSS readers: Friday's "high school" post was originally scheduled for Thursday. But when I read Robin's polygamy post on Wednesday night, I wanted to respond to it, so I scheduled that post for Thursday and rescheduled the high school post for Friday. For some reason the rescheduling didn't take, so that the high school post was briefly posted Thursday morning before I realized what had happened and took it down. By then, though, the RSS feeds had it. So that's why many of you saw the same post two days in a row.
Back on Monday of course.
Click here to comment or read others' comments.