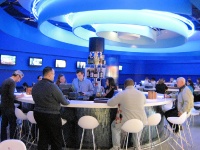 Is there a name for this phenomenon? A firm sinks vast resources into an immensely complicated engineering project and gets most of it right, but gets one detail so glaringly wrong that it seems like they might just as well not have bothered. Lexus and Jet Blue come to mind.
Last year, I almost bought a Lexus RX450 SUV. There were a lot of great features to this car, including a USB port for plugging in your iPod so you can control it directly from the dashboard. I know, I know, there are probably a lot of other cars offering this feature now, but I'd never seen it before and I loved it. At least, that is, until I tried it. Because it turns out that if you want to play a particular song through this interface—say the 1100th song in alphabetical order on your iPod—the only way to do it is to page through about 110 screens, each displaying 10 song titles. Moreover, each time you hit the button to move to the next screen, the top song on that screen starts to play. So before you can listen to, say, Fred Small's If I Were a Moose, you've got to sit through about 110 snippets of non-moose-related material. (There is no way to reorganize in any order other than alphabetical.) For this reason—and this reason alone—I didn't buy the car.
But what's really on my mind is the new $800 million Jet Blue Terminal at John F. Kennedy airport, unveiled a bit over a year ago with much fanfare regarding its fine dining, high-class retail outlets, comfortable lounges, and terminals that allow you to order food brought directly to your boarding gate. All of which is true, and all of which is thoroughly overshadowed by the seemingly random flashing lights and screeching sirens that blare for several minutes at a time until you'd happily pour boiling oil in your nostrils if it were the price of escape. During one two-hour layover last week, this happened at least four times; during another it happened only once—but the retailers I talked to, who are there every day, told me that the first experience was pretty typical. (Plus, once is more than enough—especially if your traveling companion, like mine, happens to be susceptible to day-long migraines that are triggered by flashing lights and screeching sirens.)
Mind you, these sirens and lights serve absolutely no purpose. Everyone in the terminal ignores them (except for covering their eyes and ears). And even if you wanted to respond to them, you couldn't, because there are no posted instructions about what you're supposed to do when an alarm goes off. Their only effect is to make the terminal so very unpleasant that I will never connect through it again as long as there is any viable alternative.
So—huge project, done 99% right, but the 1% that's wrong drives your customers away. Do you have a name for this phenomenon and/or other examples to share?
PS—I know, from email and from comments on other posts, that a lot of you want to hear about my religion debate with Dinesh D'Souza. I'm thinking that rather than summarize it from memory, I should first review the video (since I might be a shade less brilliant on the video than in memory). Give me a couple of days!