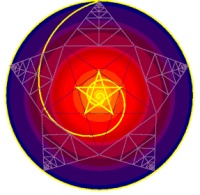 Some quick words about the mathematical universe, which is the theme of the first chapter of The Big Questions:
1. A "mathematical object" consists of abstract entities (that is, "things" with no intrinsic properties) together with some relations among them. For example, the euclidean plane that you studied in high school geometry consists of points, together with certain relations among them (such as "points A, B and C are collinear"). Mathematical objects can be very complicated. Mathematical objects can have "substructures", which is a fancy name for "parts". A line in the plane, for example, is a substructure of the plane.
2. Every modern theory of physics says that our universe is a mathematical object, and that we are substructures of that object. Theories differ only with regard to which mathematical object we happen to be a part of. Particles, forces and energy are not just described by equations; they are the equations (together with abstract, purely mathematical relations among those equations).