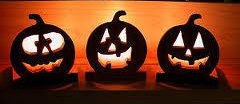 This week we celebrated the greatest logician, the greatest economist, and the greatest lyric poet of the 20th century, beginning on Monday with a nod to the 80th anniversary of Kurt Godel's Incompleteness Theorem, continuing Tuesday with an attempt to popularize Ken Arrow's Impossibility Theorem (which, incidentally, Arrow preferred to call the "General Possibility Theorem") and on Wednesday with an homage to Dylan Thomas on his 96th birthday.
Tyler Cowen and Alex Tabarrok also took on Arrow's Theorem this week, though it seems to me that Tyler got it wrong, for reasons I explained on Thursday. And on Friday I did my small part to publicize Bob Murphy's challenge to Paul Krugman, and how you can help.
More on Monday! In the meantime, happy Halloween!