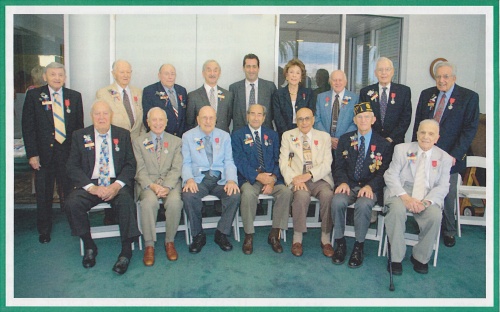 On May 17 of this year, these fifteen World War II veterans were awarded the French Legion of Honor medal for their service in France. They were cited for their courage and their contributions toward the French liberation. Third from the left, in the light blue jacket, is my Dad.
Words like "awe" and "gratitude" cannot begin to describe what I feel toward these people, whose sacrifices secured the unprecedented safety, prosperity and freedom that have graced my life and so many others of my generation. In the world they created, those sacrifices have become (for people like me) unimaginable.
These are the giants who cleared my path through life. I'm glad to see them honored, though no honor can ever be enough.
************
In the front row: Harold Cohen, Arthur Jaffe, Norman Landsburg, Frank Kogut, Kenneth Kravis, Edward Oleksak, Pat Milanese.
In the back row: Donald Marks, Joe Pangerl, Alfred Morfee, George Miliband, Gael de Maisonneuve (Consul General), Anne-Laure Chavy (Assistant to the Consul General), Bernard Goldman, James Griffis, Don Shopiro.
Not pictured: Evan Phillips