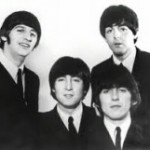 The other night at dinner, I was asked whether, when the Beatles came to the US in 1963, I had had any sense that something really big had happened.
Well, I was pretty young in 1963, probably too young to think about such matters. I remember having little interest in the Beatles, but being being very aware that they were something very big. Everyone was aware of that. But unless I am mistaken, pretty much nobody realized that we were witnessing something really big and lasting. More generally, I doubt that anyone at the time had any inkling of the long-term significance of rock 'n' roll. We knew it was popular, but we had no idea it would change the world. I'm not sure that in 1963 anyone knew that it was possible for music to change the world.
This led to the more general question: How quickly are great cultural watersheds recognized for what they are? In the few areas I know something about, I think the answer is "usually pretty quickly". I remember 1910 even less vividly than I remember 1963, but I am pretty sure that it wasn't long between the appearance of The Love Song of J. Alfred Prufrock and the realization (at least among people who care about this sort of thing) that poetry had changed forever. In mathematics, at least in the past century (and I'm pretty sure for several centuries, or even millenia, before that), major paradigm shifts have generally been recognized very quickly. When a Serre or a Grothendieck upends the mathematical world, the mathematical world quickly knows it's been upended.
On the other hand, it took people remarakably long to catch on to the significance of the Internet. I remember trying to tell people in 1992 that this Internet thing was going to be very big someday, and meeting a lot of blank stares. And even I, who was a very early adopter of email, Usenet, FTP and IRC, initially dismissed the World Wide Web as a passing fad.
So here's the (extremely vague) question of the day: How often are cultural watersheds widely and quickly recognized, and what characterizes those that are and those that aren not? I'm not talking about fads here (so LOLcats don't count); I'm talking about real lasting world-shaking changes. Feel free to interpret the question in any way you please, and have at it.