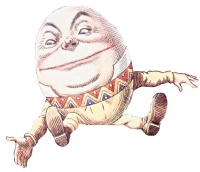 Greg Mankiw, with a hat tip to his son Nicholas, asks for a plot of the function xx, where x is a real variable. The answer he points to (provided by Pedagoguery Software) gives this picture/expanation: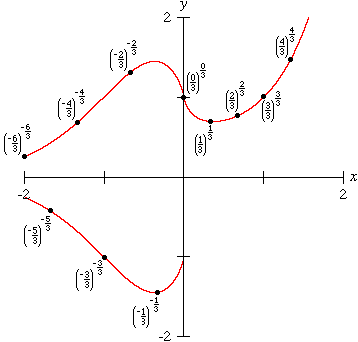 Although the graph does not immediately appear to be a function, closer examination will reveal its true nature…

For negative x, xx is

undefined if x is irrational,
undefined if x = odd / even,
a well-defined positive real number if x = even / odd, and
a well-defined negative real number if x = odd / odd.
This answer is, of course, correct or incorrect depending on how you define xx. Since the Pedagoguery Software folks (henceforth I'll call them "the PS folks") haven't offered any definition, it's hard to tell whether their answer is correct or not.
So let's try to figure out whether any reasonable definition could yield this answer.
************************
The starting point for any reasonable definition is surely to set xx equal to one of the many values of ex Log(x). (This function is many-valued, because, for any value of Log(x), you can always add 2πi and get another one.) It seems clear that the PS folks are interested only in real values (in accordance with the usual elementary school edict that, for example, the square root of -1 is undefined). Given this, it's a nice little high-school-level exercise to prove that:
When x is negative, ex Log(x) has at most one real value. Moreover, it has a real value exactly when x can be written as a fraction with an odd denominator, in which case that value corresponds with the value given by the PS folks.
Aha! So that suggests that the working definition for xx is "the unique real value of ex Log(x) if it exists, undefined otherwise".
Unfortunately, this doesn't work when x is positive. For example, (1/2)(1/2) has two real values (the positive and negative square roots of 1/2). There's also a problem when x=0, where Log(x) is undefined.
So the working definition seems to be "the unique positive real value of ex Log(x) if it exists; otherwise the unique negative real value of ex Log(x) if it exists; otherwise undefined unless x=0, and in that case 1″. This is a perfectly legitimate definition according to the Humpty Dumpty criterion ("When I use a word, it means just what I choose it to mean"), but it's starting to look pretty ad hoc — sufficiently so that I don't think anyone could reasonably have guessed it.
So I don't like this problem!
(Incidentally, if you don't like multiple-valued functions, the really right way to handle all this is to define the function Log(x) not on the complex numbers but on an appropriate Riemann surface, though even then you need to do a little extra finagling to ensure that 00 comes out to be 1.)