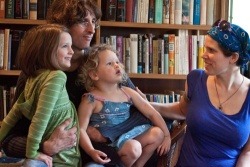 Our occasional commenter Sierra Black is the subject of a 20/20 documentary scheduled to air on ABC tomorrow night (Friday the 20th) at 10PM Eastern Standard Time. You should watch it.
I've had the great blessing of getting to know quite a lot of you (some better than others of course) in the few years I've been blogging, but Sierra is one of the few I've met face to face. She and her husband Martin have more than once been guests in my home; my daughter occasionally babysits for Sierra's daughters Rio and Serena. (The picture at the top was taken in my living room.) My family and Sierra's camp together (along with quite a few other friends) every summer, and while we're not always in close touch, we do keep track of each other. They're good people.
The 20/20 program will focus on Sierra and Martin's unconventional relationship choices. We here at The Big Questions are strong enthusiasts for all things consensually unconventional.
Sierra reports that:
Throughout this process, I've worried about everything from how my relationships will be portrayed to what middle America will think of my housekeeping…
It would be a lovely thing if you stopped by her blog (or commented here) to let her know you're okay with her housekeeping, in all senses of the word. Or, of course, to raise thoughtful objections, if you've got them. But please be gentle! Sierra's my friend.