With a hat tip to Kenneth Anderson at the Volokh Conspiracy:
Golden Balls is a British game show where players decide, in secret, whether to adopt a strategy of "Split" or "Steal". In this episode, they face the following payoffs (in British pounds):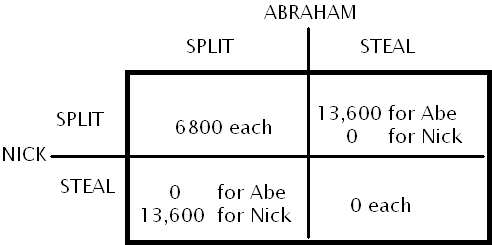 This is almost, but not quite a classic Prisoner's Dilemma situation. (To make it a true Prisoner's Dilemma, where stealing always beats splitting, you could change the lower-right hand box to "1 each" instead of "0 each".) As in the Prisoner's Dilemma, you can never go wrong by stealing — though you can go horribly wrong when the other guy steals, so it makes sense to reach a no-stealing agreement — and then to violate it.
In other words you'd pretty much expect homo economicus to steal every time. But this game is far more interesting than the usual textbook version of the Prisoner's Dilemma, because it's played by real people for real money and they negotiate in public for half a minute before they choose their strategies. In principle, the negotiation shouldn't change anything (unless the players come to care about each other, or about the way they're perceived by the audience). But in this episode, the negotiation took an unexpected turn.
What would you have done?