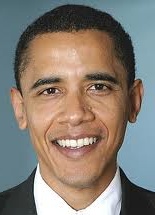 The President of the United States thinks that gay marriage should be legal. So do I. But I have two coments:
First, I am dismayed by the notion that anyone's vote might be swayed by this issue, in either direction.
As I said earlier in the week, I do understand why this is an issue of major importance in some people's lives. But the number of people affected, and the magnitude of the effects, are still meager compared to the effects of, say, trade or immigration policy. What ever happened to perspective?
Of course, Bryan Caplan will tell you that voters are systematically irrational in any event, so it might be just as well that they're basing their votes on things that don't matter very much, as opposed to basing their votes on things that really matter and getting them wrong. But it's still disheartening to think about.
Second, I am dismayed by the President's suggestion that he came to this viewpoint through observation of "incredibly committed monogamous" same-sex relationships among his staffers — suggesting (though not outright asserting) that monogamy ought to be somehow relevant to the legal status of one's marriage. And here I'd thought the whole point of this gay marriage thing was that the way people have sex is not properly a concern of the legal authorities. If he's continuing to deny this principle, then the President remains philosophically on the same side of this divide as Family Research Council.
I'll go one step further: Any gay marriage activist who has taken the principled stand that people's sex lives should be irrelevant to the legal status of their marriages, and who now embraces the president's position, is, I think, engaged in some pretty serious hypocrisy. Because the President's message to that gay marriage activist is not "You were right all along". Instead it's "I still think your position is wrong, but I'm going to give you what you want anyway." I understand being joyful about getting what you want, but to follow that up with "Hooray, now the President's on our side!" — when the President in fact continues to deny the primary principle on which you staked your claim — is pretty much equivalent to saying "I never really cared about the principle in the first place, as long as I got what I wanted."