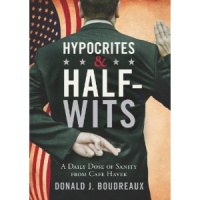 The letter to the editor is a literary genre unique unto itself. Unlike the editorial or the op-ed, the letter typically allows its author only a couple of short paragraphs to make a single compelling point. A good blog post might ramble from one loosely connected idea to another, but a good letter proceeds directly to its target.
Don Boudreaux is, beyond any doubt, the modern master — no, the all-time master — of this underrated branch of literature. When a radio station interviews a Galveston resident who's just topped off her gas tank in anticipation of Hurricane Ike — and who is furious to learn that gas prices have jumped 50 cents a gallon overnight even though "Ike hadn't hit yet" — a blogger (or an Armchair Economist) might respond with a long-winded explanation of why it's a good thing that supply, demand, and therefore prices respond quickly to a change in expectations. Boudreaux, instead, skips right to the heart of the matter:
Your reporter should have immediatedly asked this woman: "Well, why were you topping off your tank? Ike hadn't hit yet."
Or, when an book endorsing "small, localized communitarian, neighborly economies" gets a positive review in the New York Times, that same blogger or Armchair Economist might respond with a thousand words on comparative advantage, the division of labor, and the other benefits of globalization. Boudreaux contents himself with the wry observation that the reviewer compliments the author on being "highly traveled".
In the same vein, a letter addresses Senator Sherrod Brown's efforts to support the federal minimum wage not with a long dissertation on labor markets but with a pointer to the Senator's penchant for hiring unpaid interns. Does Senator Brown believe that his interns have made an informed choice to acquire valuable experience in lieu of wages? If so, "why does [the Senator] continue to deny non-government employees the right to choose the terms of their own employment?"
Don posts many (but not all) of his letters over at Cafe Hayek, and he maintains a mailing list you can join. But those will only whet your appetite for more. Fortunately, then, you can pre-order Hypocrites and Half-Wits, a collection of Don's finest specimens, interlaced with background material, quotations, cartoons and more. This is terrific stuff, simultaneously light-hearted and deeply profound, and surely among the most lucid and important economic commentary of our times.