There's an old puzzle popular among a certain type of schoolchildren that challenges the solver to write as many positive integers as possible using exactly four 4′s, together with some set of mathematical operations. (As is often the case with school children, the exact rules tend to get negotiated in real time as the puzzle is being solved.) Some examples are: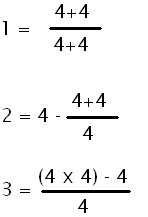 But when I became a man, I put away childish things. So here's the grown-up version of the problem, which I got from Mel Hochster over 20 years ago, and still don't know how to solve:

This being a grown-up problem, the rules are carefully specified:
The only allowable operations are "square root", "factorial", and "floor". (The floor of a number is its integer part, so that, for example, the floor of 11.2371 is 11.) In fact, you've got to do all the factorials first, then all the square roots, then the floor. So for example: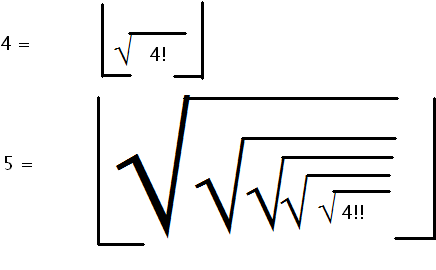 By varying the number of factorials and the number of square roots, can you get every positive integer this way?
Edited to add: When the first seven comments were posted, I had the arithmetic wrong in the examples. It's fixed now.