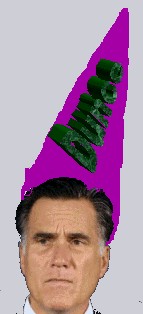 I tried listening to Mitt Romney on the radio Sunday morning, but after a few minutes it just got too depressing.
Here's what I heard in that few minutes:
1) We need to maintain defense spending because (among other reasons) it "creates jobs". If Mitt Romney does not understand that the creation of jobs — i.e. the consumption of resources that could be valuably employed elsewhere — is the downside of defense spending, then he has no better chance of "fixing the economy" than a blue-bottomed monkey.
2) It is "immoral" for us to "pass on debt" to future generations — future generations who will almost surely be richer than we are. Note that in this context, "pass on debt" means exactly the same thing as "leave a smaller inheritance". So Romney's view is that there's a moral imperative for the relatively poor — namely us — to transfer income to the relatively rich — namely our grandchildren. What's interesting about that is that Romney is already on record in favor of a more progressive tax code, the sole purpose of which is to transfer income in the opposite direction — from the relatively rich to the relatively poor. (More precisely: Romney would tax capital income at a lower rate for the "middle class" than for the "rich". Since there is no conceivable efficiency-based justification for such a policy, his position can only indicate a pure preference for rich-to-poor redistribution.) Either Romney has just declared himself immoral, or he's just spouting random words. (Or, just possibly, he has a good argument for why we have a moral obligation to redistribute from the rich to the poor in some situations but not others. I would like to hear him articulate that argument.)
I wrote last week about President Obama "playing the dunce" with his assertion that lowering tuition rates will allow more students to attend college. I am 99% sure the president isn't that dumb himself; he's just making a cynical ploy for dumb voters. In Romney's case, I'm less sure he's playing.