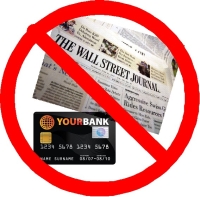 Having just discovered a staggering $910 (!!!!) in unexplained and unauthorized charges to my MasterCard by the Wall Street Journal (no, these were not legit renewal fees), I have just spent what seems like the better part of four days telling my story on the phone to one customer service rep after another, each of whom has found a new way to lie to me. ("We'll call you back by the end of the day" was the most frequent lie, followed by "we're putting through a half-refund now and someone with higher authority will call you shortly to arrange the rest" — which turned out to be two lies in one). Finally, I decided to send an email with the whole sad story, asking for a refund and mentioning that I sure hope there won't be any resulting confusion that interrupts my delivery service. I got an email back saying "Per your request, we're cancelling your delivery service". Today I had no newspaper — and still no refund.
Think of the top three worst customer service stories you've ever heard. Chances are excellent that versions of all three have cropped up along the way in this sordid saga, the details of which I will suppress because I'm sure they're less interesting to you than they are to me.
But I will mention this: Aside from the lying, and the lying and the lying, there's also the fact that absolutely nobody appears to keep any record of these conversations, so that each time I call, I'm starting from scratch, explaining the whole story to a customer service rep who won't put me through to a supervisor until I rehash the whole thing, then waiting on hold ten minutes for said supervisor, who needs the entire story told from scratch again before connecting me to the department that's really equipped to deal with this, where I wait on hold for another ten minutes before telling my story yet again and, 50% of the time, getting disconnected. When I call back, it's back to Square One.
Oh, yes….and they've also studiously ignored my repeated requests/demands that they expunge my credit card number from their records, and refused to acknowledge my repeated notifications that they do not have my authorization to charge my credit card for anything ever again.
Continue reading 'Never Give Your Credit Card to the Wall Street Journal'