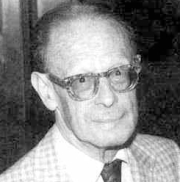 Andre Weil was a towering figure in 20th century mathematics, his book on Basic Number Theory being just one of his many immortal contributions. (The title is something of a joke; this is a pathbreaking treatise at a very advanced level.)
None of which explains why today, fifteen years after Weil's death, I received an email from the mathematical publisher Springer-Verlag that reads:
Dear Andre Weil,

We are writing today regarding your book *Basic Number Theory (ISBN: 978-3-662-05980-7), and to let you know about our plans
for an electronic archive, the Springer Book Archives.

…

Your author benefits at a glance:

- Your book will be digitized and become an eBook, published on SpringerLink, our online platform, and for e-reading devices such as the Kindle or iPad.

- Your book can never go 'out-of-print' and will be preserved for future generations of scientists.

- You will be provided with free access to the electronic version of your book once it is included in the archive.

- You will receive royalties, or can choose to waive them in support of charitable organizations such as INASP or Research4Life,
that help provide the developing world with access to scientific research.

Please go to the following website and select your preferred royalty option.

[URL deleted]

Yours sincerely,

[Etc.]
This mail was sent to an email address I never use and that, as far as I can tell from Google, appears nowhere on the web, though I have it set up to forward to an address I do read.
How should I respond?