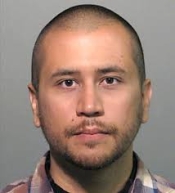 If you need further proof that a human being is a close cousin to a chimpanzee, you need look no farther than the design of the American justice system.
Debra Nelson, the judge in the George Zimmerman murder case, has disallowed testimony from audio experts about whether that's Zimmerman or the deceased Trayvon Martin who can be heard screaming on the 911 tape. That matters, because much of what's in dispute here is the question of who attacked whom.
One prosecution expert was prepared to testify that the screams are Martin's, and another that they are at least not Zimmerman's. Defense experts were prepared to dispute those claims. They made their arguments in front of the judge for several days, whereupon she ruled that the jury won't be allowed to hear any of it.
The judge's concern was that there is no good evidence that the experts' techniques are reliable. That might be true. But who should be making that call — the judge or the jury?
There is, I think, an excellent case to be made that juries are, by and large, incompetent (or at least less competent than judges) to determine what constitutes a plausible argument by an audio expert. But if you buy that argument, I think you'll be pretty much forced to conclude that the jury is also incompetent to reach a verdict. If that's your view, we shouldn't have juries in the first place.
There is also, I think, an excellent case to be made that juries are sufficiently competent that we should trust their judgments, especially when the alternative is to trust judges who are potentially corrupt, incompetent, or lazy. If that's your view, we should trust the jury with any evidence the attorneys want to show them.
But I think it would be very hard to argue that the same jury is both incompetent to judge testimony about screams on a 911 tape and competent to judge testimony about dozens of other relevant bits of evidence where there's sure to be dispute about the veracity and competence of the witnesses.
You might — just possibly — be able to make a case that there's something special about audio analysis (and, presumably, a few other subjects) that makes juries uniquely incompetent — and/or makes judges uniquely competent — to pass judgment on these issues. But in my experience, most people are either generally good at assessing evidence and drawing conclusions or generally bad at it. The people who I'd trust to assess the testimony of an audio expert are pretty much the same people I'd trust to assess pretty much any other kind of testimony (unless, of course, they themselves are audio experts, which I presume in this case is true of neither the jury or the judge).
You might want to argue that the judge is simply saving everyone a little time (news stories suggest that this ruling might cut as much as a week off the trial) by disallowing testimony that the jurors are pretty sure to reject in any case. But the solution to that is not for the judge to usurp the judgment of the jury; it's to charge the attorneys for their use of court time. Let them present whatever evidence they think is sufficiently convincing that it's worth their while to pay the jury to hear it.
I understand the good arguments for and against having a jury system, but where is the good argument that says we should trust juries with life-and-death decisions while not allowing them even to hear about collateral matters that the prosecution or defense considers relevant? Anyone?