Many years ago, when soft pretzels were available on every street corner in downtown Philadelphia at the going price of

Ten Cents Apiece/Three for a Quarter
there was one vendor who occupied a prime location in the City Hall courtyard, and was therefore able to command a premium price. His sign read
Ten Cents Apiece/Two for a Quarter
I always thought we could explain that one away as a case of poor math skills. But now our frequent (and frequently brilliant!) commenter Thomas Bayes sends along this photo of a sign that he recently spotted at a gas station convenience store, and which I'm finding a little harder to get my head around: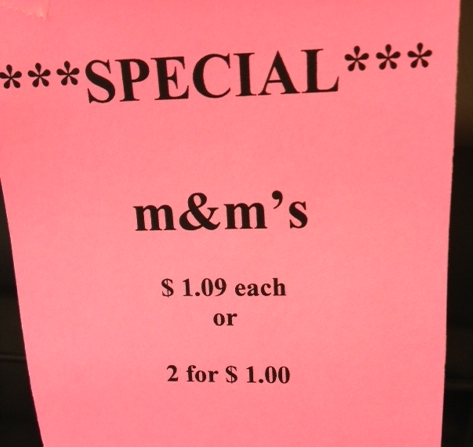 Thomas reports:
I asked the person behind the counter if she could sell me one pack for $1. She said no. I asked if she would throw one of the packs away for me if I bought two. She seemed genuinely puzzled. I drive an SUV, so I wish they'd apply this scheme to the gas they sell.
Here's your chance to get creative. Give me an explanation consistent with rational behavior and orthodox economic theory.
Click here to comment or read others' comments.