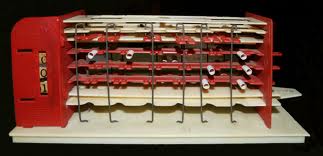 In The Big Questions, I wrote about an absolutely wonderful toy I had as a child. The Digi-Comp I was a completely mechanical computer; it ran on springs and rubber bands, and you built it yourself from a kit. You programmed it by placing little plastic cylinders (cut from drinking straws) on appropriate tabs, and you pushed a lever to run the program. The back of the computer was completely exposed, so you could watch the cylinders and straws and rubber bands push each other around — and see for yourself how those motions implemented the logic of your program and produced a result. As I wrote in The Big Questions, a child with a Digi-Comp I is a child with deep insight into what makes a computer work.
I am delighted that the Digi-Comp I is, after a 40 year hiatus, back on the market, though the modern version substitutes laminated binders board (i.e. high quality cardboard) for plastic. There is, I think, no better gift for a kid who likes computers, or likes logic, or likes knowing how things work.
Now an old friend (who shares my fond memories of this toy) writes to point me to yet another reincarnation of the DigiComp I — as a Lego project! Way cool.
Click here to comment or read others' comments.