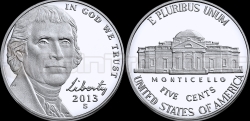 Every day, a man comes to my door with a United States nickel in his hand. He asks me whether I'd prefer to examine the heads side (which is always painted either black or white) or the tails side (which is always painted either red or green). I choose each day according to my whims.
And the same thing happens to my sister. Different man, different coin, but each day he's there with a painted nickel, offering to let her examine either the heads side or the tails side.
Sometimes we call each other to compare notes on the colors we've seen. Here's what we've concluded:
The Rules
Our heads sides are never both white.
Whenever one of our tail sides is green, the other one's heads side is white.
We have thousands of observations to support these conclusions: On days when we both examine our heads sides, we never both see white. On days when we examine opposite sides and one sees a green tail, the other always sees a white head.
The Brain Teaser: Today we both chose Tails and both saw green. What colors were on our Heads sides?
Solution: By point 2) above, they were both white. But by point 1) above, that can't happen. So….?
So what now?