As recently as a few months ago, doctors were held in high esteem and educated people believed that medicine could be useful. All that changed, of course, with the medical profession's stunning failure to prevent or even predict the breakout of ebola in West Africa. Worse yet, many doctors to this very day cling to their old ways of thinking, writing prescriptions, setting broken bones, and performing surgery in bull-headed defiance of the urgent need to jettison everything we know about medical practice and start over from scratch.
Nobody, of course, writes such nonsense about medicine. Why, then, do so many write equivalent nonsense about economics?
Most economists failed to predict the 2008 financial crisis and ensuing recession for pretty much the same reason most doctors failed to predict the 2014 ebola epidemic — their attention was, quite reasonably, directed elsewhere. It's easy to say in hindsight that if economists had paid more attention to the shadow banking system, they'd have seen what was coming. But attention is finite, and if economists had paid more attention to the shadow banking system, they'd have paid less attention to something else.
For a little perspective, have a look at this chart showing U.S.~per capita income in fixed (2005) dollars: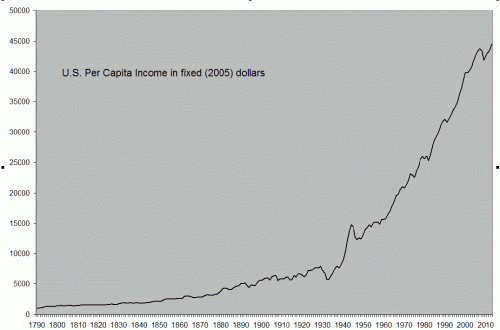 That little downward blip you see near the top is the recent crisis. The somewhat bigger downward blip in the 1930s is the Great Depression. The moral is that in the overall scheme of things, recessions don't matter very much. At the trough of the Great Depression, people lived at a level of material comfort that would have seemed unimaginably luxurious to their grandparents. Today, while Paul Krugman continues to lament "the mess we're in", Americans at every income level live far better than Americans of, say, 1980. If you doubt that, you surely don't remember what life was like in 1980. Here's how to fix that: Pick a movie from 1980 — pretty much any movie will do — and count the "insurmountable" problems that the protagonist could have solved in an instant with the technology of 2014. Or reread any of the old posts on this page.