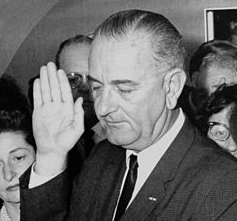 Fifty years ago today at 1:30 PM eastern standard time, a minor tragedy took the life of President John F. Kennedy. A little over an hour later, a major tragedy ensued, as Lyndon B. Johnson was sworn in to replace him.
If there is such a thing as evil, it lived in Lyndon Johnson, whose life was one long obsession with the accumulation and exercise of power. His biographer Robert Caro relates how, in college, Johnson engineered, by intimidation and deceit, a takeover of the Student Council partly so that he could, apparently for sport, force the removal of talented and hardworking students from the editorships of campus publications, replacing them with non-entities and reveling in the tragic aftermath as ousted incumbents (who had received small but urgently needed stipends for their work) were forced through financial hardship to drop out of school.
It was downhill from there. As President, Johnson presided over a misbegotten war in Southeast Asia — a whirlpool of destruction fed with lives and treasure — and an equally misbegotten "War on Poverty" that too often became a war on economic freedom, the only effective antidote to poverty the world has ever known.
The War on Poverty might have been more accurately termed a war to consolidate Johnson's influence. Poor rural families got grants and loans to expand their farms — provided they stayed on the farms, where Johnson needed their votes. Job training, educational programs, small business loans — all were available as long as you lived your life in a way that suited Lyndon Johnson's purposes.