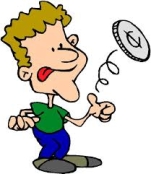 This is the story of how I came to write a little paper called The Coinflipper's Dilemma.
When I was in high school, my English teacher must have had a free period at the time when my math class met, because every day he would march into the math class and empty his pockets on the table, whereupon my math teacher did the same. Then whoever had put down the most money scooped up everything on the table.
I am ashamed to admit that it took me until this summer to think about computing the equilibrium strategy is in that game.