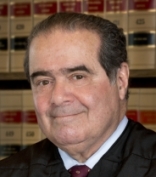 My favorite Scalia story is from Ted Cruz's book A Time for Truth. This took place in 1986, when the departure of Warren Burger had created a vacancy on the Supreme Court, and it was clear that attorney general Ed Meese would be President Reagan's most influential advisor on choosing a nominee. According to Cruz:
Everyone knew that two of the stars on the conservative side, and thus possible nominees, were Robert Bork and Scalia, both on the D.C. Circuit. So one day Scalia was walking in a parking garage at the appellate court when two U.S. marshals stopped him. "Sorry, sir," one of them said. "We're holding this elevator for the attorney general of the United States."

Scalia pushed past them, entered the elevator, and pressed a button. As the doors closed, Scalia shouted out, "You tell Ed Meese that Bob Bork doesn't wait for anyone!"
Click here to comment or read others' comments.