Archive for the 'Book' Category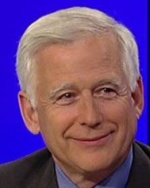 David Henderson reviews the new revised Armchair Economist.
Click here to comment or read others' comments.
The new revised edition of The Armchair Economist is now on sale in paperback and electronic versions. Last week's glitch (where the electronic versions were of the wrong edition) is fixed.
For almost twenty years, Armchair has been widely recognized among economists as the book to give your mother when she wants to understand what you think about all day. In this new version, fully updated for the 21st century, I've completely rewritten several chapters to make them even clearer, livelier and more contemporary.
I (and you if you buy the book) am deeply indebted to Lisa Talpey who read every chapter multiple times, insisting that I keep rewriting until everything met her meticulous standards of clarity. Chapters I'd thought were pretty good are vastly improved thanks to Lisa; these include:
Why Popcorn Costs More at the Movies (and Why the Obvious Answer is Wrong)
Was Einstein Credible? (The Economics of Scientific Method)
The Indifference Principle (Who Cares if the Air is Clean?)

and

Why Taxes Are Bad (The Logic of Efficiency)
Others are almost completely rewritten to focus on issues that are in the news today; these include
The Mythology of Deficits

and

Unsound and Furious: Spurious Wisdom from the Media
By way of general housecleaning, I've excised all references to cassette tapes, Polaroid film, and Walter Mondale.
You can read the preface here. You can buy the book here. Here are direct links to the updated Kindle and Nook editions. (These editions are advertised as "published November 2007″, but don't panic; that's just the lingering shadow of last week's glitch. They're actually the brand-new 2012 edition.)
Dan Seligman at Fortune called the first edition of The Armchair Economist "enormous fun from its opening page"; Alfred Malabre of the Wall Street Journal called it "the most enjoyable and sensible book by an economist about economics that I've read in donkey's years"; Milton Friedman called it "an ingenious and highly original presentation of some central principles of economics for the proverbial Everyman"; George Gilder called it "a crisp, lively, pungent display of the economist's art". This second edition is, I believe, all that and more.
The Armchair Economist is indeed the perfect gift for your mother, or for your father, or for the new college grad in your life, or even for yourself. Enjoy it, and come join the discussion right here.
Click here to comment or read others' comments.
The paperback edition of The Big Questions goes on sale today — and Amazon has it for 33% off. This is a good time to stock up on gift copies for all your friends who are curious about math, physics, economics, philosophy or rational inquiry. Thanks to all of you for making this such a rewarding enterprise, and for the many blog comments that will make the next book even better.
Click here to comment or read others' comments.
In Chapter 9 of The Big Questions, I lamented the great duplication of time and effort that occurs each spring when the top academic departments are all evaluating the same handful of job candidates, and I wondered why departments don't free ride by simply announcing "We'll take anyone with an offer from (say) Stanford".
An anonymous math department chairman reports on his own strategy for cutting down on the workload. He believes that one of the most important determinants of a successful career is luck. So each year, he randomly rejects half the applicants without even reading their folders. That way, he eliminates the unlucky ones.
I don't normally blog on Sundays, but I'm starting to think of you guys as friends, so I want to share my delight at these valued words from Greg Mankiw, an economist I have long held in the highest esteem. From his blog:
Looking for a Christmas gift for that special econonerd in your life? Try Steven Landsburg's new book, The Big Questions.

I recently finished it, and it is much fun. Reading it is like having dinner and sharing a bottle of claret with a smart, creative, iconoclastic friend. The conversation jumps from topic to topic in math, physics, philosophy, economics, public policy, etc., in a seemingly random fashion, and your friend does not always convince you of his point of view. But throughout you are entertained, and in the end you are even edified.
I'm of course delighted by the sales push, but even more so by hearing these words from someone I respect as much as Greg.
Over at National Review Online, John Derbyshire starts off with some kind words about The Big Questions, and then goes off on an ill-considered screed about immigration. First, by all means let's quote the kind words:
Steven's new book, The Big Questions, has a lot of good things in it, as one would expect from an author who proudly declares himself a math geek. His explanation of Heisenberg's uncertainty principle (pages 135–141) is a model of clarity in the popularization of science. His geometrical illustration of a Talmudic rule on the division of an estate (pages 205–213) shows the mathematical imagination at its best.

Landsburg is an economist by profession — a professor of economics, in fact — and has the economist's insight that many matters commonly discussed in terms of morality can be reduced to cold arithmetic: "When things are priced correctly, there's no need to moralize about them." He gives some illuminating examples.
But then things take a darker turn:
Deirdre McCloskey has changed my life several times, and always for the better. I had my first economics lessons from friends who were so inspired by Deirdre's lectures that they felt compelled to repeat them to me over dinner; she was one of my most influential teachers long before I'd ever laid eyes on her. Later on, I had the privilege of knowing her personally, counting her as a treasured friend, and being repeatedly re-inspired by her twin passions to understand the world and to make it work better.
When I decided to write a textbook that competed directly with Deirdre's own, she was my strongest booster. When I decided to follow up with a book for the general public—the book that became The Armchair Economist—Deirdre told me exactly how to sell it to the publishers. Fifteen years later, the Armchair Economist remains one of the bestselling popular economics books in at least six languages, and at multiple levels—intellectual, practical and personal—I owe it all to Deirdre.
So it was with considerable delight that I received Deirdre's recent email with subject line "Your Splendid Book". But as I fully expected (having had this conversation with her more than once), her praise was tempered with disapproval of my "adolescent" atheism:
The "Look Inside" text for The Big Questions should be up on Amazon's website in a few days. Meanwhile, Snorri Godhi suggested in comments that I should post the index for your perusal. Good idea, Snorri. Just click on "Index" at the top of this page.
I once owned a book where page 317, in its entirety, read as follows:
ERRATA

On page 317, change ERRATA to ERRATUM.
It's a good thing I didn't steal that joke. Because as it happens, The Big Questions contains an actual erratum. True, it's only two missing letters. But of all the letters in the book, these are probably the two I'd least like to have seen go missing.
Fortunately, I discovered this erratum within minutes of receiving my first hardcover books a couple of weeks ago, and the Free Press division of Simon and Schuster sprang into action. Everyone, from the publisher to the editorial assistants to the warehouse managers, understood immediately that we needed to fix this. Better yet, they kept me involved and informed throughout the process, which contrasts dramatically with experiences I've had with other publishers.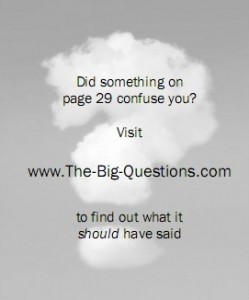 Doubly fortunately, I happened to pour out my woes to the brilliant psychometrician Ellen Julian, who suggested that we make up cards much like the one illustrated here and somehow get them into the tens of thousands of books that were scheduled to leave the warehouse the following Monday morning. (This was a Thursday.) The Free Press made it happen in a day, and all would have been well had I not awakened on Saturday to the sickening realization that the cards contained the wrong URL. Now it was the weekend and too late to have new cards made in-house.
Continue reading 'Today's the Day'
The Big Questions should be in the stores shortly. I expect and hope that my readers will have a lot to say about it. I welcome your thoughts, comments and complaints at this email address: questions at landsburg dot com.
Over the years, I've learned a lot from my readers and I expect I'm about to learn a lot more. I'll use this blog to share some of what I learn—along with anything else that strikes my fancy.
If you choose to comment, your first post will be held for moderation. Once that first post is approved, your future posts will be approved automatically. I'll delete or edit comments only when they're clearly quite unserious or abusive. I'm looking forward to this dialogue.