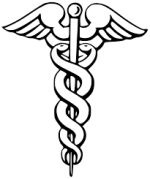 When the Greek goddess Hera wanted to know who enjoys sex more, men or women, she had the good sense to ask Tiresias, who had lived as both. (She did not, however, have the good sense to accept Tiresias's answer).
When sociologist Kristen Schilt wanted to know why men and women succeed differently in the workplace, she had the good sense to ask workers who have lived as both. I've read only a fraction of Schilt's book, but I learned a little about it from Jessica Nordell's thoughtful writeup in the New Republic. The upshot seems to be that when women become men, they feel that they're taken more seriously, whereas when men become women, they feel the opposite.
As Nordell points out, this really is a cool idea because a change in gender doesn't change your skills or education, so when we track people's experiences before and after their crossings, we're holding a lot of relevant variables constant.
On the other hand, as Nordell also points out, there's at least one important variable that's not being held constant, and that's testosterone level. When you go from female to male, you acquire a lot of testosterone; when you go from male to female you give up a lot. That opens up a lot of possibilities. Maybe testosterone makes you more effective at work, which leads to better treatment. Or maybe the treatment doesn't change at all, but your testosterone level leads you to perceive it differently. (Likewise, of course, for a variety of other hormones.)