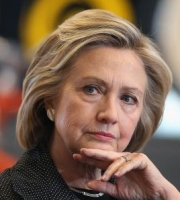 For your consideration:
I submit that Hillary Clinton lost because she did not make even a minimal effort to make herself palatable to people like me — people who care primarily about economic growth, fiscal responsibility, limited government, individual freedom and respect for voluntary arrangements.
Because I care about those things (and for a number of other good and sufficient reasons), there was never a chance I would vote for Donald Trump. I gave money to Jeb Bush. Then I gave money to Ted Cruz. Then I gave money to the "Never Trump" movement that was trying to foment a revolt at the convention. Then I gave money to pro-growth Senate candidates. For me, the only remaining choice was between voting for Clinton and not voting for Clinton. (I also considered sending her money.)
I knew that if I voted for her, I'd never feel good about it. That was too much to ask. But I'd still have voted for her, if only she hadn't gone out of her way to make me feel awful about it. And that she just would not or could not stop doing.
Every time I listened to her recite the litany of reasons not to vote for Trump, I cheered her on. But she seemed incapable of getting through a speech without veering off into the loony-land of free college and unfree trade. Most disturbingly — partly because it was most disturbing and partly because she harped on it so often — was the glee with which she looked forward to rewriting other people's labor contracts and vetoing their voluntary arrangements. Do you want to accept a wage of less than $12 an hour in exchange for, say, more on-the-job training or more flexible work hours? Hillary says no. Do you want to forgo parental leave in exchange for, say, a higher salary? Hillary says no. And on and on.