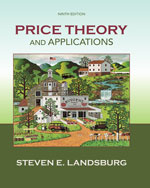 If you are an instructor using the new 9th edition of my book Price Theory and Applications, you might share my frustration at the fact that Cengage, for reasons presumably related to its ongoing bankruptcy proceedings, has still not managed to release the instructors' manual, though its been ready for several weeks now.
Fortunately, not too many instructors are affected, since most are still using the 8th edition (we expect most instructors to switch over starting in January, 2014). But if you are one of those instructors, please do email me (you can click on the "contact" tab at the top of this page) so I can send you copies of at least the first several chapters to hold you over until Cengage gets it act together.
(Note that this offer does not apply to students! Your email must come from a recognizable college or university address, where I can check via the web that you are currently teaching this course!)
Click here to comment or read others' comments.