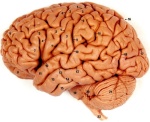 My travel schedule for the next several days will probably keep me from posting anything too substantial. So let me leave you with three lovely brain teasers to keep you occupied in the meantime.
1) (Hat tip to Ben Tilly): I have thought of two numbers, which I call A and B. You know nothing about how I came up with these numbers. I plan to flip a fair coin and then tell you the value of A if the coin comes up heads or B if the coin comes up tails. Your job is to guess whether the number I quote is the larger or the smaller of A and B. Devise a strategy that guarantees you a better-than-even chance of winning, no matter what A and B are.
(To make this more precise: Your probability P of winning is a function of A, B and your strategy. Devise a strategy S such that P(A,B,S) is greater than 1/2 for all A and B.)
2) (Hat tip to Stan Wagon): Alice and Bob ran a marathon (assumed to be exactly 26.2 miles long) with Alice running at a perfectly uniform eight-minute-per-mile pace, and Bob running in fits and starts, but taking exactly 8 minutes and 1 second to complete each mile interval (so, for example, it takes him exactly 8 minutes and 1 second to get from the 3.78 mile mark to the 4.78 mile mark, exactly 8 minutes and 1 second to get from the 3.92 mile mark to the 4.92 mile mark, etc.). Is it possible that Bob finished ahead of Alice?
3) (Hat tip to my old friend Steve Maguire): The border between Delaware and its neighbors includes a section with a circular arc: on the circle ten miles from a church in Dover Delaware. Can you name another state border that is partially defined by a circular arc?
I'll continue to check comments while I'm on the road, but perhaps just a tad less diligently than usual.