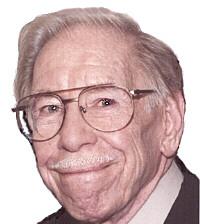 Congressman Donald Schwerbitz, who represented South Dakota back in the 1960s and 70s, was a visionary environmentalist who sponsored the first legislation designed to reduce our national carbon footprint. It was Congressman Schwerbitz who recognized that carbon emissions are caused primarily by breathing, and he proposed to cut those emissions in half by requiring every American to wear a device that plugs up one nostril.
Congressman Schwerbitz was actually my neighbor Les Waas, the founder of the Procrastinator's Club of America (which seems not to have gotten around to launching a website) and an irrepressible prankster who managed to get himself invited onto a talk radio program to explain how the nostril plugs would work. (The host was in on the joke.) Because talk radio audiences are dominated by libertarians and reactionaries, the response was not positive. Callers clamored for civil disobedience; one threatened that if he ever saw anyone wearing one of these devices, he'd "punch him in his other nose". Others worried that our clean air might drift over to Cuba, where the communists could use it. A few, though, were enthusiastic. One woman wanted to know if the devices could be adapted to fit animals. Warthogs, she observed, have very big nostrils.
All of which makes me a little hesitant to comment on Len Burman's op-ed piece in yesterday's Washington Post. It's hard to read the column without suspecting that Mr. Burman is a latter-day Senator Schwerbitz looking to entice bloggers like me into making fools of themselves by taking him seriously. But okay. I'll take the risk.
Mr. Burman likes President Obama's proposal to freeze (some) federal spending. He likes it so much that he thinks we should apply it more generally. In order to do this, he wants to count not-taxing-stuff as a form of spending. For example, we currently don't tax income that's used to pay mortgage interest or employer-sponsored health insurance. (I happen to favor the first of these policies and oppose the second, but for the moment that's neither here nor there.) Mr. Burman refers to these failures-to-tax as "tax expenditures" and thinks we should freeze them as well.
Of course there are a lot of other things we don't tax, and the "logic" of Mr. Burman's op-ed requires us to count all those lost opportunities as expenditures also. The Federal Government currently spends $300 billion a year on not levying a $1000 birthday tax. It spends tens of billions more on not taxing breathing. And only the Congressional Budget Office can estimate the cost to taxpayers of not taxing taxpaying.
Look. It's really important to distinguish between spending on the one hand and not-taxing on the other. Spending consumes resources, which are then unavailable to members of the next generation. Not-taxing doesn't do that (though you could argue that not-taxing sometimes encourages individuals to consume resources, which are then equally unavailable to members of the next generation).
Crazy as all this may sound, it's not out of the mainstream. Deficit hawks often conflate tax cuts with spending increases, as if one were equivalent to the other. That's silly, and I'm grateful to Mr. Burman for making the silliness graphic by taking it to such an extreme. I hope that was his intention. But I fear he was serious.