When screenwriter Daniel Turkewitz was working on a script about astronauts struggling to survive in crisis conditions, he enlisted a veteran astronaut as a consultant. That worked so well that when Turkewitz began his new project, a script about Maine seceding from the Union to join Canada, he decided to enlist an expert on the legal niceties of secession. In other words, he decided to enlist a Supreme Court Justice.
Eight out of nine justices (plus retired Justice Sandra Day O'Connor) ignored Turkewitz's inquiry about what would happen if a secession case were to reach the Supreme Court. Rather astonishingly, however, Justice Scalia responded with the following letter, which Turkewitz's brother Eric posted on his blog this week: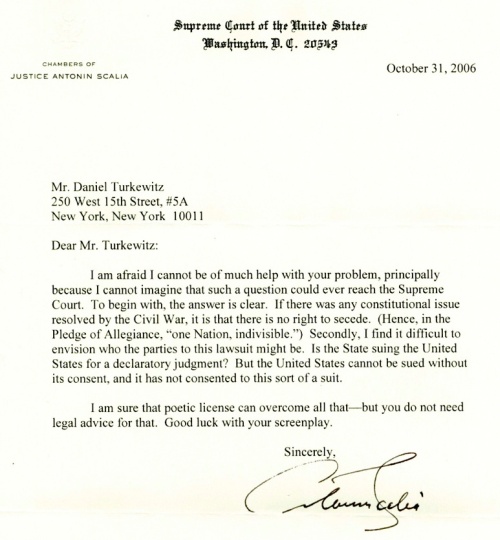 Now, as Eric Turkewitz observes, Scalia (not for the first time) might be expressing a minority opinion here. By coincidence, exactly the same question was discussed just a week ago over at the Volokh Conspiracy, where Eugene Volokh suggests that a 144 year old military victory could well be considered something short of a definitive resolution of a constitutional issue.
A grateful hat tip to Jon Shea, who called my attention to this remarkable story in a comment to an earlier post.