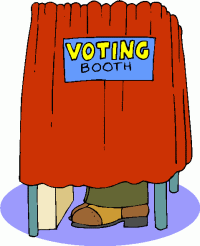 In a curiously unmotivated piece at the Washington Post, Anne Lowrey asks: "What if senators represented people by income or race, not by state?".
I can't figure out her point. I am all for identifying problems and brainstorming about radical solutions, but I have no idea what problem Lowrey thinks she's addressing.
The primary problem with representative democracy is that our representatives are captured by special interests. My senators plot to steal from you and your senators plot to steal from me, with a lot of collateral damage along the way. (And yes, you and your neighbors do constitute a special interest, as do I and mine.) The problem is exacerbated by the fact that my neighbors and I have a lot of interests in common, making it easier to steal on all our behalves at the same time. The solution is to make each senator's constituency more diverse, not, as Lowrey proposes, less.
In my book More Sex is Safer Sex, I offered a few ideas along these lines, culled from the past few years of lunch table chat:
Divide senatorial constituencies according to the alphabet, so that instead of a senator from Alaska and a senator from Wisconsin, we'll have a senator for everyone whose last name begins with AA through AE. The point being that it's easy to think up earmarks and pork barrel projects that will benefit the citizens of Alaska at everyone else's expense, but not so easy to think up pork barrel projects that will benefit everyone whose last name happens to begin with Q.
Give each voter two votes to cast in every senatorial election. You get one vote to cast in your own state and one to cast in the state of your choice.

Again, this forces senators to answer to broader and more diverse constituencies, diluting the power of localized special interests.

This one's not in the book but should have been: Give each senator a personal budget so that once he;s voted for $X billion worth of spending, he's not allowed to vote for any more spending until he gets re-elected. This pits his various sub-constituencies against each other, so that the New York Senator who lobbies for subsidies to New York City is sure to get a negative earful from upstate.
Am I serious? Of course I'm serious. I'm serious about the importance of identifying deep problems, calling attention to them, and thinking outside the box. That's why I was thrilled recently to run Jamie Whyte's guest post, proposing a novel and thought-provoking solution to another problem with democracy, namely: Voters with little impact on the outcome have little incentive to become well informed.
What are your best proposals for political reform—and what problem do they address?