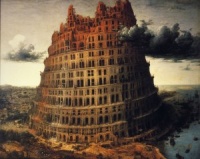 When I was a child, my parents spoke to me frequently about the evils of racism. Some people, they said, judge others by the color of their skin, but we don't do that, and you mustn't either. And when you meet the people who make those judgments—and you will, they told me—you must never ever ever give them an ounce of credence because we're right and they're wrong. There were many discussions of this topic, but in my memory they all ended with the same refrain. We're right and they're wrong.
I'm not sure how old I was at the time, but I must have been very young because I already knew the refrain by heart when my father first told me about foreign languages. In other countries, people use different words than we do. We say "cat", but in Spain they say "gato" and in Russia they say "koschka".
Well, I could easily see where this was going. Before my father could finish his sentence, I jumped in to announce that yes, those people might use other words, but we're right and they're wrong—right, Daddy?. I'm not sure whether he recognized his own refrain, but he looked quite taken aback as he gently explained that, well, no, there is no right and wrong, and one word is as good as another as long as the people around you understand what you're saying.
In that moment I decided that the world made absolutely no sense and there was no point in even trying to understand it. Yesterday we were right and everyone else was wrong. Today everyone's equally right. Was there no pattern here?
Somehow I outgrew my disillusionment. Today I dare to hope the world does make sense, or at the very least that it's worth trying to find some sense in the world. I believe that racism is evil, that foreign languages are benign, and that, the mental limitations of four-year-olds notwithstanding, it's not too hard to find a moral framework that can reconcile that paradox. Other paradoxes seem much harder. Here's one that I keep coming back to: How can it be okay to remain childless but not okay to have children and treat them badly—given that the children themselves would presumably prefer being treated badly to not being born at all? (I am assuming here, for the sake of argument, that if you couldn't treat your children badly, you'd choose not to have them. Obviously this doesn't apply to everyone, but it does apply to some people. Those are the people I'm calling "you" in this question.)
I don't know the answer to that question. I do persist in thinking about it. Feel free to address it in comments (or to share your own favorite moral paradox), though it's not the focus of this post. Mostly I just felt like telling you this story.