Until last week, I had never heard of the paradox of the absent-minded driver, but I was recently told that it has some relevance to my encyclopedia article on quantum game theory. That plus the fact that I am a notoriously absent-minded driver myself made me think I should check out the original source. Here's what I extracted:
Each day, Albert leaves his office (at the bottom of the map), gets on the Main Highway and attempts to drive home to his house on Second Street. If he turns too soon (onto First Street) or if he overshoots (going all the way to the north end of the Main Highway), he is mauled by dinosaurs.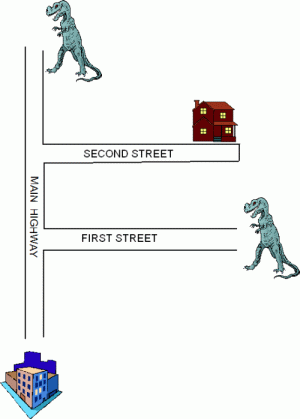 Obviously, Albert's best strategy is to go straight at the first intersection and turn right at the second. Unfortunately, both intersections look identical. Doubly unfortunately, Albert can never remember whether he's already passed the first intersection.
Since Albert can't tell the intersections apart, he needs a single strategy for both of them. Strategy A is to turn at every intersection. This delivers him directly to the First Street dinosaur mob. Strategy B is to go straight at every intersection, putting him on a direct route to the North Side crew. Neither of these strategies has any chance of getting him home.
Therefore, Albert adopts Strategy C, which is to flip a fair coin at every intersection. This gives him a 50% chance of going straight at First Street and a 50% chance of turning right at Second, for an overall 25% chance of arriving home safely. It's easy to compute that Albert can do no better.
Fortunately, Albert is smart enough to figure this out. Perhaps unfortunately, he's also smart enough to reason a bit further.
You see, with Strategy C in place, Albert makes it as far as First Street every day and continues on to Second Street only half the time. Which means that every time Albert reaches an intersection, the odds that he's at First Street are 2 to 1. So going straight is always the better bet. Of course if he takes this computation to heart, Albert is sure to make the North Side dinosaurs very happy.
Alternatively, Albert might reason that he's probably, but not certainly at First Street, so he should flip a weighted coin that increases his chance of going straight. Strategy D is to flip a coin that comes up "straight" 3/4 of the time. Why 3/4? Because Albert knows enough calculus to recognize that this is the best he can do on the assumption that he gets to revise his plan only once. With some other assumption, he might have come up with some other probability—but what matters is that it's surely not 1/2.
With Strategy D, Albert goes straight at First Street 3/4 of the time, but he turns at Second Street only 1/4 of the time, which reduces his probability of a safe homecoming to 3/16. Albert would have been better off if he'd been dumb enough to stick with Strategy C.
There are multiple paradoxes here. First, the very fact that Albert is committed to Strategy C is what leads him to compute that he should switch to Strategy D. Second, even though his computation seems correct, he's better off ignoring it.
Albert can avoid the first paradox if he starts off with Strategy E, turning right at each intersection with probability 2/3. A little calculus reveals that in that case, the recalculation leads him to right back to Strategy E. But Strategy E is clearly the wrong strategy, since it gets him home only 2/9 of the time.
So the question is: How can a sensible calculation lead to a clearly wrong answer? Given that you're absent-minded does it pay to also be dumb?
I think I have a useful framework for thinking about this problem, but it's a bit technical and I think I should save it for another post. Meanwhile, what do you think?