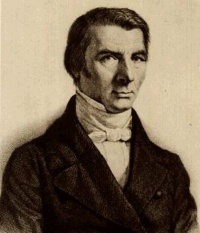 A month ago, I prematurely celebrated the 209th birthday of the great economic communicator Frederic Bastiat. Today (unless I've screwed up a second time) is actually his birthday. A good way to celebrate is to read (or reread!) Bastiat's little masterpiece Economic Sophisms; you will never see the world the same way again. Here's a taste:
At a time when everyone is trying to find a way of reducing the costs of transportation; when, in order to realize these economies, highways are being graded, rivers are being canalized, steamboats are being improved, and Paris is being connected with all our frontiers by a network of railroads and by atmospheric, hydraulic, pneumatic, electric, and other traction systems; when, in short, I believe that everyone is zealously and sincerely seeking the solution of the problem of reducing as much as possible the difference between the prices of commodities in the places where they are produced and their prices in the places where they are consumed; I should consider myself failing in my duty toward my country, toward my age, and toward myself, if I any longer kept secret the wonderful discovery I have just made.

…

I had this question to resolve:

"Why should a thing made in Brussels, for example, cost more when it reaches Paris?"

Now, it did not take me long to perceive that the rise in price results from the existence of obstacles of several kinds between Paris and Brussels. First of all, there is the distance; we cannot traverse it without effort or loss of time, and we must either submit to this ourselves or pay someone else to submit to it. Then come rivers, marshes, irregularities of terrain, and mud; these are just so many more impediments to overcome. We succeed in doing so by raising causeways, by building bridges, by laying and paving roads, by laying steel rails, etc. But all this costs money, and the commodity transported must bear its share of the expenses. There are, besides, highway robbers, necessitating a constabulary, a police force, etc.

Now, among these obstacles between Brussels and Paris there is one that we ourselves have set up, and at great cost. There are men lying in wait along the whole length of the frontier, armed to the teeth and charged with the task of putting difficulties in the way of transporting goods from one country to the other. They are called customs officials. They act in exactly the same way as the mud and the ruts. They delay and impede commerce; they contribute to the difference that we have noted between the price paid by the consumer and the price received by the producer, a difference that it is our problem to reduce as much as possible.

And herein lies the solution of the problem. Reduce the tariff.

You will then have, in effect, constructed the Northern Railway without its costing you anything. Far from it! You will effect such enormous savings that you will begin to put money in your pocket from the very first day of its operation.

Really, I wonder how we could have ever thought of doing anything so fantastic as to pay many millions of francs for the purpose of removing the natural obstacles that stand between France and other countries, and at the same time pay many other millions for the purpose of substituting artificial obstacles that have exactly the same effect; so that the obstacle created and the obstacle removed neutralize each other and leave things quite as they were before, the only difference being the double expense of the whole operation.
For those of us who strive to communicate economic ideas, it's humbling to be reminded that Bastiat did it so brilliantly, and with so little impact. If he were alive today, he'd be a hell of a blogger.