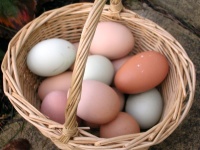 Over at Marginal Revolution, Tyler Cowen puzzles over Ian Ayres's take on investment strategy:
In our risk-reducing implementation, we want people to borrow to invest more when young and then invest less when older. The lifetime exposure to stocks is held constant. Compare the following two investment paths:

Option 1:

Year 1 Invest $1
Year 2 Invest $2
Year 3 Invest $3

Option 2:

Year 1 Invest $2
Year 2 Invest $2
Year 3 Invest $2

Our view is that option 2 is the safer bet.
(Note that when Ayres says "invest $2″ he does not mean "Add $2 to your investment". He means "Have a total of $2 invested." So under Option 1 you add a dollar a year to your investment. Under Option 2 you do all your investment up front and then scoop out all the profits every year (or scoop replacement funds in if you've taken losses). Option 1, in other words, is the widely touted but thoroughly ridiculous strategy often called Dollar Cost Averaging.
I'm surprised that Tyler is unsure about this. Here's the clear intuition: Under Option 1 (the dollar cost averaging strategy) you've got $1 riding on the first year's market performance, $2 riding on the second year's, and $3 riding on the third year's. Under Option 2, you've got equal amounts riding on each year's performance. Therefore you're more diversified (and hence safer) under Option 2. (This ignores a world of practical difficulties, like getting your hands on enough borrowed funds to make your entire lifetime investment up front. In the real world, you'll never manage to implement Option 2—but you should still strive to get as close to it as possible.)
I first realized this about fifteen years ago when I was writing a chapter on investment strategy for The Armchair Economist. But of course I didn't want to go to press without confirming my intuition, so I did some calculations to make sure I was right. Through the miracle of modern technology, I still have every note I've ever made to myself since I got my first computer, and through a greater miracle I was actually able to find this one. It's a little technical, and a little terse because it was never meant to be read by anyone but me, but I think it answers Tyler's question unambiguously. Here it is.