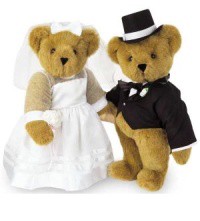 Robin Hanson reports that success in marriage is quite uncorrelated with the match between your personality traits and your partner's. Your traits matter (it pays to be happy, for example) and so do your partner's, but the combination makes no difference. In other words, being a happy person (or an extrovert, or a stickler for detail) affects the quality of your marriage in exactly the same way whether you marry Ruth Bader Ginsberg or Lady Gaga. (This applies specifically to personality traits, not to religion, politics, wealth, intelligence, etc.)
Edited to add: The original version of this post misstated the result; I've changed a few words in the preceding paragraph so it's accurate now.
From this, Robin concludes:
If you want a happy relationship, be a happy person and pick a happy partner; no need to worry about how well you match personality-wise.
NO!!!! That's not the right conclusion at all, and it's worth understanding why not. Suppose we lived in a world where personality matches had a huge effect on the success of marriages. In that world, why would two people with clashing personalities ever choose to marry? Presumably because there's some special value in the match — like, say, an extraordinary mutual attraction — that overrides the personality clash.
So a survey of married couples — which is exactly the sort of evidence Robin is reporting on — is not at all a random sample of couples. Instead, it consists, for the most part, of couples with matched personalities on the one hand, and couples with mismatched personalities who are exceptionally well suited to each other for some other reason on the other hand. It's not too surprising to find similar success rates in those two classes of couples. The third class — the couples with mismatched personalities and no redeeming match characteristics — never gets married and therefore never gets surveyed.
Conclusion: The results Robin quotes are perfectly consistent with a world where personality matching doesn't matter — but also perfectly consistent with a world where it matters very much.
Now a more sophisticated analysis would account for the costs of search in the mating market, and the fact that people sometimes settle for imperfect mates because time is running out. My colleagues who know the search literature better than I do tell me that, depending on your assumptions about the distribution of personality traits, you might or might not be able to draw any inferences from the results Robin is quoting, but that in any event the inferences will be far less strong than you'd expect from a naive reading of the data. You'd probably want to start by thinking about a Roy model.
Moral: Never try to interpret data without thinking about how those data were selected. What's your favorite example of a case where this moral was disastrously ignored?