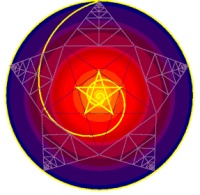 Some quick words about the mathematical universe, which is the theme of the first chapter of The Big Questions:
1. A "mathematical object" consists of abstract entities (that is, "things" with no intrinsic properties) together with some relations among them. For example, the euclidean plane that you studied in high school geometry consists of points, together with certain relations among them (such as "points A, B and C are collinear"). Mathematical objects can be very complicated. Mathematical objects can have "substructures", which is a fancy name for "parts". A line in the plane, for example, is a substructure of the plane.
2. Every modern theory of physics says that our universe is a mathematical object, and that we are substructures of that object. Theories differ only with regard to which mathematical object we happen to be a part of. Particles, forces and energy are not just described by equations; they are the equations (together with abstract, purely mathematical relations among those equations).
3. If you want to think of the universe as something other than a mathematical object — say, something that is controlled by mathematics, or described by mathematics, as opposed to made of mathematics — then you're up against the fact that nobody has the slightest idea how to construct a useful physical theory along those lines. It's not just that science rejects all the alternatives; it's that no scientist (as far as I know) has even been able to imagine a useful alternative. (Perhaps you can find solace in religion.)
4. So — at least if you accept modern physics — at least one mathematical object (namely the one we live in, and are part of) exists physically. This naturally raises the question of which other mathematical objects exist physically.
5. Before you can answer that, you've got to ask what it could even mean for one mathematical object to exist physically while another doesn't. Our universe is a certain mathematical object. Surely there are other mathematical objects that differ from it only in detail. They contain substructures as complicated as we are, in more or less the same ways, and therefore as well equipped as we are to perceive their surroundings as physically real. If you want to claim that our universe is in fact "real" and theirs is not, then you've got to explain what that reality consists of.
6. Whatever that reality consists of, it must be some purely mathematical property, because our universe is a purely mathematical object, so that all its properties are purely mathematical.
7. I want to stress that: If, as physics tells us, the universe is "made of math", then its physical reality is part of that math. We should therefore expect similar mathematical structures to share the property of physical reality.
8. Which structures count as "sufficiently similar" to ours that we should expect them to be physically real? That's up to us, really, since we're in the process of defining the term "physical reality". My own instinct is to call a mathematical object "physically real" if it contains what Max Tegmark calls "self-aware substructures", i.e. structures that are complicated in a way that makes them aware of their own existence. Tegmark's own preference is to say that there's simply no point in discriminating among mathematical objects, and we should simply call all of them physically real.
9. But why bother arguing? Why struggle to come up with a definition for some vaguely imagined notion of "physical existence"? Ockham's Razor cautions us not to burden ourselves with unnecessary metaphysical baggage. There are mathematical objects. Some have self-aware substructures. Our universe is one of those. The business of science is to figure out which one. What more needs to be said?
10. Finally: I never cease to be amazed by people who uncritically accept the reality of rocks, geese and butterflies but want to deny the reality of mathematical objects. Science tells us that rocks, geese and butterflies are mathematical objects. What else could they be?