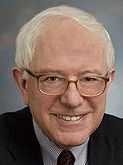 A lot of people think of janitors as a group that's not particularly well paid. Those people might be surprised to learn that in the last five years alone, American janitors earned over $250 billion! That's billion! With a B!
Despite that enormous income, janitors pay no taxes whatsoever — or at least no taxes whatsoever over and above the taxes that are paid by you, me and other ordinary Americans. And shockingly, it appears that the U.S. Congress would rather cut spending than institute a new tax on janitorial income.
If the above strikes you as insane, congratulations. You are smarter than the intended audience of Senator Bernie Sanders, who observes in his new book "The Speech" that General Electric's shareholders collectively earned a staggering $26 billion over the past five years, and paid absolutely no tax on that amount.
Of course $26 billion is only a tenth of what janitors earned over the same time period, but I guess it does look mighty big if you don't bother dividing by the number of shareholders. Without having all the numbers in front of me, my best guess is that we're talking maybe a few hundred bucks per shareholder, though of course (as with janitors) some earn more and others earn less.
And as for the shareholders paying absolutely no tax, perhaps they didn't, as long as you don't count taxes on dividends, capital gains and wages. To wit:
GE pays no current dividends, but the expectation of taxes on future dividends suppresses the current value of the stock, amounting to a tax on past and/or present shareholders.
Every shareholder who cashes out — that is, every shareholder who actually realizes any of these profits — pays a capital gains tax.
Every shareholder who ever earned a dollar and bought GE stock has already paid income tax on that dollar, which the government (as opposed to the shareholder) has had the opportunity to invest, so that the government (as opposed to the shareholder) is collecting some fraction of the investment revenue, which is to say that the shareholder's investment income is effectively taxed up front.
So right. No taxes paid whatsoever, except for the taxes, and the double taxes and the triple taxes. Just as janitors have paid no taxes whatsoever, except for the taxes they've paid.
Surely Senator Sanders understands most of this, and ought to understand all of it, and therefore can only be laughing up his sleeve, as befits the most cynical of demagogues, at the gulls who take him seriously. But it's a delicate business. He's aiming at an audience that's smart enough to read or hear his words and still dumb enough to swallow his analysis. According to my careful calculations, the relevant IQ range is a rather narrow 81 to 84. Coincidentally, that's just about the IQ of the average NPR listener, which I suppose is why Senator Sanders got a respectful hearing last week from Diane Rehm.
The problem with democracy is that these people get to vote.