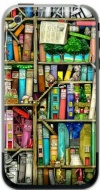 A few years ago, I discovered that reading on my Kindle is about 1000 times better than reading a book. This year, I discovered that reading on my iPhone is about 100 times better than reading on my Kindle. As a result (and also as a result of a lot of time spent on airplanes), I've been on a mad fiction-reading spree the past few months. Some mini-reviews:
The Adventures of Augie March (Saul Bellow): Not an easy read, even with the iPhone's automatic links to dictionaries and Wikipedia. But well worth the effort, I think. Rewarding in the small and in the large — while I was reading, I kept caring what would happen next, and after I'd finished, I felt like I'd had a good workout and I was glad I'd gone to the gym. This made me want to read more Bellow (I think I will tackle Herzog next, if they ever bring out an electronic edition) but with long breaks between novels.
The Age of Innocence (Edith Wharton): Extremely good. Hard-to-put-down good. And a real insight into not just a vanished way of life, but a vanished way of seeing the world. All about the blinders that people wore in that time and place (the book is set in the 1870s, but was written in 1920, after those particular blinders had come off) and a real inspiration to think about what new blinders have taken their place.
The Ambassadors (Henry James): Quit after a couple of pages; it was failing to grab me. I should come back and try again.
American Pastoral (Philip Roth): I am currently 1/3 of the way into this, but I am already sure it is a great book. I will now read everything Philip Roth ever wrote.
Anthem (Ayn Rand): The first Ayn Rand I've ever read. Less tendentious and a better read than I'd expected.
Barchester Towers (Anthony Trollope): Terrific fun! To paraphrase one of the Amazon reviewers—I'd never have believed you if you'd tried to tell me that I'd be utterly gripped by a story about who was going to get which of the various positions in the heirarchy of the Church of England that I have never heard of. This is the second in a six-part series. After I'd read it, I read the earlier and much shorter The Warden, which is sort of like going back to read The Hobbit after you've already read Lord of the Rings. The Warden was okay, but if I'd read it first, I'd probably have stopped there. I'm glad I started with this one, after Trollope had hit his stride. I remain most eager to get to the remaining four in the series, and then everything else he ever wrote, which should take me a while, since he wrote at least 50 books.
The Brothers Karamazov (Fyodor Dostoevsky) (for the fourth time!). Arguably the greatest novel ever. The issue with the Brothers K is always the choice of a translation. The last time around (maybe ten years ago or so), I went with Pevear and Volokhonsky, and pronounced it by far the best. This time I went back to the classic Constance Garnett translation that I last read at age 16 — and reminded myself that this one is also great.
Man and Superman (George Bernard Shaw): Another re-read; more tedious more often than I'd remembered. I once saw the third act performed by Agnes Moorehead and the great Ricardo Montalban; even with Montalban, it seemed clear that this was a play that worked better on the page than in the theater. But even on the page, it still kind of drags.
The Man Who Changed His Skin (Harry Stephen Keeler): It was definitely weird. I'll give it that.
Nightmare Abbey (Thomas Love Peacock): The only Peacock I'd never read before, and probably the best of them. More of a long short story than a novel, very funny in places, I was glad to be reading it, but also glad it was short. (That is, it was fun, but the kind of fun that's best in small doses — which, since it comes in a small dose, is just fine.)
Pride and Prejudice (Jane Austen): Surprisingly tedious. I was glad when it ended. The only Jane Austen I've ever read is Northanger Abbey, which seems considerably spritelier.
Snow Crash (Neal Stephenson): It depresses me that there's a market for a book this bad. I slogged through the whole thing, but oh my God it was painful. What kept me going was the sprinkling of brilliant passages, and the occasional brilliant chapter — and when they were brilliant, they were very very brilliant. (Also, the vision of future technology, though dated, was clever and insightful.) But there was precious little of that, compared to the endless passages that made me feel like I was trapped in a theater, watching a really really bad movie directed by a no-talent hack who thought he could make me care about the heroine trapped in the basement by dragging the scene out for twenty minutes.
The Sunlight Dialogues (John Gardner): In my 20s, John Gardner was my favorite author and the Sunlight Dialogues was one of my favorite books. I decided to read it again, and gave up a quarter of the way through. Part of what drove me crazy was my inability to distinguish among the various characters named "Hodge"; there would be long passages about what "Hodge" was up to, and I could never figure out whether this was Hodge the father, Hodge the son, Hodge the brother, or (for all I know) Hodge the Holy Ghost. I do not remember having this problem back in my 20s, so I suspect the fault lies not in the book but in the aging brain of the reader.
Tom Jones (Henry Fielding): Loads of fun.
Young Lonigan and The Young Manhood of Studs Lonigan (James T. Farrell): The first two books in the Studs Lonigan trilogy. The tone is as unlike Edith Wharton as you can get, but there's the same sense of looking back on a time when people wore different blinders than they do today (in Wharton's case, the upper crust WASPs in 1870′s New York; in this case the working class Irish in early 20th century Chicago). Farrell made me want desperately to jump into the action and guide these people toward a better way to be. Good enough to make me want to read the third part of the trilogy, but not good enough to make me want to read it immediately. The (clearly deliberate) choppiness of the writing kept taking me aback; sometimes it worked, sometimes it didn't.
Still on my iPhone waiting to be read (I am too lazy to insert links for these):
Absalom, Absalom! (William Faulkner)
An American Tragedy (Theodore Dreiser)
A Bend in the River (VS Naipaul)
The Bonfire of the Vanities (Tom Wolfe)
Brideshead Revisited (Evelyn Waugh)
Cannery Row (John Steinbeck)
Dr Jekyll and Mr Hyde (Robert Louis Stevenson)
The Finkler Question (Howard Jacobson)
The Ginger Man (JP Donleavy)
Jonathan Strange and Mr Norell (Susanna Clark)
Lonesome Dove (Larry McMurtry)
The Magnificent Ambersons (Booth Tarkington)
Motherless Brooklyn (Jonathan Lethem)
Pale Fire (Vladimir Nabokov)
The Postman Always Rings Twice (James Cain)
Sons and Lovers (DH Lawrence)
Spooner (Pete Dexter)
Stone's Fall (Iain Pears)
To the Lighthouse (Virginia Woolf)
Uncle Tom's Cabin (Harriet Beecher Stowe)
Under the Net (Iris Murdoch)
The Way of All Flesh (Samuel Butler)
Winesburg Ohio (Sherwood Anderson)
— and, recently added, a whole bunch of Edith Wharton, Anthony Trollope and Philip Roth.
It might take me a while to get through these.
And finally: There are a lot of very old books on this list, partly because old books are cheap (or often free) in electronic formats. In the not-so-distant past before I got my first Kindle, I leaned more toward the contemporary. The last two dead-tree books I read were The Thirteenth Tale (Diane Setterfield) (reading hint for this one: keep a list of all the little unexplained mysteries, and cross them off as they get explained) and Water for Elephants (Sara Gruen), both of which were so good and so gripping and so memorable that I couldn't resist mentioning them even though they're slightly off topic for this post.
What else should I read?