This post is a first attempt to rank the efficiency of the Republican candidates' tax plans, concentrating on six dimensions:
1) The tax rate on wages and/or consumption. A wage tax and a consumption tax are pretty much interchangeable; you can tax the money as it comes in or you can tax it as it goes out. So I'm treating this as one category. The "right" level for this tax depends on your forecasts for future government spending.
2,3,4,5 and 6) The tax rates on dividends, interest, capital gains, corporate incomes and estates. I believe these tax rates should all be zero. That is not a statement about how progressive the tax system should be. A wage tax and/or a consumption tax can be as progressive (or regressive) as you like. It is instead a statement that while all taxes discourage both work and risk-taking, capital taxes have the added disadvantage that the discourage saving. This simple intuition is confirmed by much of the public finance literature of the past 25 years. (Here is a good example.)
My personal preference is for a system substantially less progressive than the one we've got, but for purposes of this exercise I won't penalize candidates whose preferences differ from mine. For the record, Romney, Huntsman and Santorum are the three who (as far as I can tell) want to maintain substantial progressivity, with Romney, uniquely among the candidates, preferring even more progressivity than we currently have.
Here, then, is a chart, with candidates ranked roughly in order of their willingness to exempt capital income from taxation. I prepared this chart with a few quick Google searches (this is a blog post, not a journal article) and it probably contains errors. I'll be glad for (documentable) corrections and will update the chart as they come in. Asterisks refer to further explanations, which you'll find below the fold.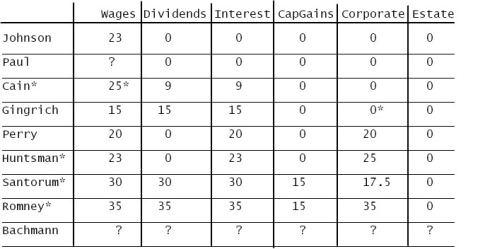 If we care about efficiency, we're looking for zeroes in the last five columns. On the face of it, Johnson is the clear winner. But Cain's 9/9/9 plan has two arguments in its favor that don't appear on this chart. First of all, people are a lot less likely to bother evading one of three 9% taxes than a single 23% tax; therefore we'd have a lot fewer evasion problems under Cain than under Johnson. Second, it's pretty easy to imagine Congress raising a 23% tax to 24% or 25% or 26%, but it's a little harder to break the psychological barrier of single-digit tax rates, so Cain's 9/9/9 might be more politically stable than Johnson's 23. Therefore I'm calling this a tie between Johnson and Cain.
But the top six are all pretty good, except maybe for Paul, who hasn't revealed his key number. Santorum is bad, Romney is atrocious, and Bachmann (who, as far as I can tell, has not bothered to release a tax plan) is an enigma.
Some explanations:
1) Cain stresses that this is a transitional plan, ultimately to be replaced by an even better one.
2) Cain's plan consists of a 9% VAT, a 9% sales tax, and a 9% income tax. A VAT and a sales tax are not exactly the same thing (they end up getting levied on slightly different goods) but they're close enough for this rough exercise; therefore we can lump together the VAT, the sales tax and the part of the income tax that taxes wages. That adds up to 27%, but a slightly more careful calculation tells you that Cain will allow you to keep 91% of 91% of 91% of your spending power, which is to say about 75%. Thus this counts as a 25% tax, not 27%.
3) Gingrich wants a 12.5% corporate tax with 100% expensing. This is equivalent to a 0% corporate tax together with a one-time transfer of assets to the government, so as far as its effects on efficiency, I'm calling it the equivalent of a 0% tax. For several reasons, I'd prefer a corporate tax that really *is* 0%, but I'm trying not to impose my personal preferences on these rankings (beyond a preference for efficiency), so I am giving Gingrich credit for the equivalent of a 0% corporate tax.
4) Huntsman, Santorum and Romney all endorse multiple tax brackets; I've put only the top brackets in this chart. Huntsman's 23 should really be three brackets: 8/14/23. Santorum's should be 10/20/30. And Romney holds the remarkable view that our flawed political system has somehow settled on exactly the optimal system of six brackets, which he would preserve in its entirety.