I've just been pointed to this notice of a conference in honor of the topologist Tom Goodwillie's 60th birthday.
This reminded me of several things, not all of them related to the relentless march of time.
For example, once a very long time ago (though it sure doesn't seem that way) Tom asked me a simple physics question that troubled me far more than I now think it ought to have:
A boxcar full of water sits on a frictionless train track. A mouse gnaws a hole through the bottom of the boxcar, in the location indicated here: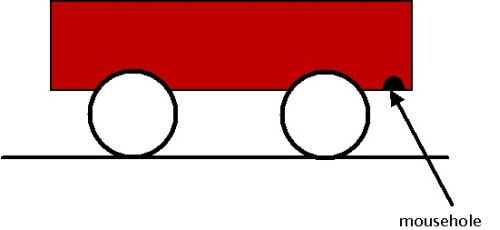 The water, of course, comes gushing out. What happens to the boxcar?
Click here to comment or read others' comments.