Between The Folds is a striking documentary about the art and science of origami. I've watched an advance copy, provided by the producers, and it's really quite mesmerizing. Roughly half the program is devoted to artists like Satoshi Kamiya, who folded this extraordinary dragon, according to the rules of origami, from a single piece of paper with no cuts. In the second half, we meet mathematicians and scientists like Robert Lang,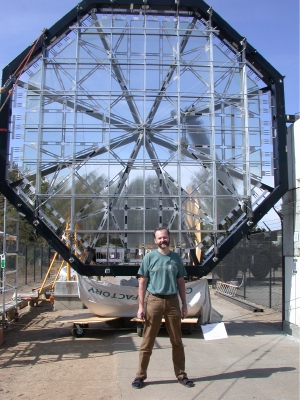 pictured here in front of the folding lens he designed for the Hubbell Space Telescope—folded, it fits inside a small rocket ship for delivery to its destination in space, where it unfolds automatically—and Erik Demaine, the paperfolding enthusiast and Macarthur "genius" award winner who is applying origami to the design of synthetic proteins that fold reliably into the proper configurations.
"Between the Folds" has its national television debut tomorrow night (Tuesday, December 8 on PBS; check your local listings for the time). Or check here for additional showings.