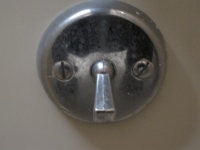 You know that metal plate in your bathtub? The one with the little lever on it that opens and closes the drain? What happens when the water level rises above that plate?
When my sister asked me this question over Thanksgiving dinner, I answered, with the utmost confidence, that it causes (quite instantaneously) an enormous flood. (Note the exact wording. This will be important later.) My sister nodded sagely and said "That's what I thought, too." My sister and I had the same mother, you see.
And then she asked, quite innocently, "So. How exactly does that work?". And I was stunned—absolutely stunned—to realize not only that I had no answer to this question, but that there could not plausibly be an answer. Which somehow had never occurred to me in the half century or so that I'd been harboring this ridiculous notion.
My sister had seen the light just a few weeks earlier when her husband was filling the bathtub. The water level had gotten perilously close to the metal plate, and my sister had frantically cried out that he was about to cause an "enormous flood". (My mother's contention that she never taught us any such thing is severely undermined by the fact that my sister and I shared not only the same bizarre misconception, but the same phrase to describe it). Her husband, puzzled, had responded appropriately with something like: "Huh?". And she'd realized she had no answer.
Readers of The Big Questions will be aware that in my opinion, much religious belief is very like my belief in the mystical power of bathtub hardware. That is, it survives only because it is unexamined. It does not, in other words, run deep. And as a consequence, it doesn't affect the way most people live their lives—because as soon as it starts interfering with your life (or with your husband's bath) you set it aside.
Such "beliefs", it seems to me, do not deserve to be called beliefs at all. In the words of Samuel Taylor Coleridge, "You do not believe; you only believe that you believe".
I was recently pointed to a wonderful column by the philosopher Jamie Whyte, making the same point so vividly that I rushed to order two of his books from Amazon. As it turns out, they're both the same book. Crimes Against Logic is the Americanized version of the original and very British Bad Thoughts. I randomly chose to read the British version, and it's a blast. Whyte lists a dozen logical fallacies so blatant you'd think nobody could ever fall for them, and then gives you multiple examples of people who have fallen for them. Much snarky commentary ensues.
As Whyte documents, people speak a lot of nonsense. (I am one of those people. So are you.) You might be tempted to conclude that people are dumb, but I'm more inclined to conclude that people are busy. We're all working so hard to be good carpenters, or good taxi drivers, or good teachers, or good parents, that we don't have the time and energy to think hard about bathtub hardware or God or the consequences of a protective tariff. And most of the time, we don't suffer for getting this stuff wrong. But every now and then it pays off—in some combination of enlightenment and entertainment—to pull out one of your cherished "beliefs" and ask: "So. How exactly does that work?"