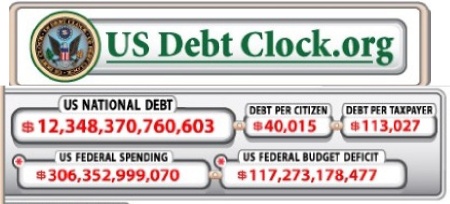 When I teach economics, I try to drive home the lesson that words are supposed to mean something coherent. If you want to be rewarded for stringing together a bunch of empty phrases, you should go take an English class.
I was therefore maximally sympathetic to the poor XM radio host (I think it was Pete Dominick but I'm not sure) who was stuck interviewing a man named John Sakowicz last Friday. Sakowicz, who hosts his own radio show in northern California, was there to warn about the dangers inherent in our growing national debt. He was very clear about this much: the debt and its associated dangers are massive, explosive, perhaps even apocalyptic. He was entire unclear, however, about exactly what those dangers are.
Pressed for an explanation, Mr. Sakowicz rather breathlessly announced that every child born in America today is born with a $45,000 share of the national debt. (He should have said the average child and $45,000 is probably not the right number, but those are minor quibbles). The host, bless him, asked exactly the right question, namely "What does that mean?". To which Mr. Sakowicz attempted to clarify his meaning by repeating the $45,000 figure in a considerably more agitated tone of voice. To which the host calmly replied: "Okay, but what does that mean? Take my daughter, for example. Exactly how does this affect her life? Does it meant that she'll pay that much more in taxes…..or what?". To which Mr. Sakowicz replied that $45,000 is a really big pile of money.
Well, yes, $45,000 is a really big pile of money, but the host's question was exactly on target. When we say that an American child is born owing $45,000, (or $40,000, or $350,000) what does that mean for the life of the child?
Answer: Pretty much nothing. What matters to your kids is not their share of the national debt, but their overall inheritance. There are two parts to that inheritance. First, there's what your kids get directly from you. Second, there are the factories, machines and tools that other kids inherit, creating opportunities for your kids to earn higher wages.
What we collectively leave our kids is equal to what we collectively produce minus what we collectively use up. When the government commissions someone to build, say, a tank or a highway or a bridge to nowhere, using, say, a million dollars' worth of resources, those resources are subtracted from the next generation's inheritance—partly from your own kids' and partly from other people's kids', which affects your kids' wages. If you like, you can (perhaps partly) compensate for your kids' share of that burden by tightening your belt and leaving a little more in your bequest. But the moral is that it's government spending, not government debt that has the potential to impoverish our children.
To see that debt is not the culprit, suppose for a moment that we decide to eliminate the debt tomorrow by raising taxes, so the average American forks over $40,000. What does that do for the average child who's born tomorrow? It removes a $40,000 debt burden and simultaneously cuts his inheritance by $40,000. How is that child's life affected? To a good first approximation, not at all. (I am glossing over some complications here, but they are of relatively minor importance.) And of course that calculation makes perfect sense because the only way you can make the next generation richer is by conserving actual resources—which you can't accomplish with accounting tricks.
Ah! you might say, but we've done more than that—we've saved that child not just from $40,000 in debt but also from a lifetime of accumulated interest on that debt. Yes, and we've also robbed that child of not just $40,000 in inheritance but also of a lifetime of accumulated interest on that inheritance. It all washes out.
This is why it's so frustrating to hear talk of blue ribbon commissions assigned to the task of "debt reduction". "Debt reduction" can mean less spending, or more taxes, or some combination thereof. But to raise taxes solely for the purpose of debt reduction is to mask the problem, not to solve it. Debt is not the problem; spending is. Hysteria about the debt is misdirection.
Edited to add: In the month of January, the federal government spent approximately $1000 per American.