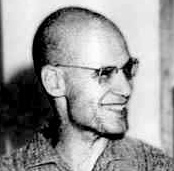 In 1958, the 30-year-old Alexandre Grothendieck stunned the International Congress of Mathematicians with his audacious proposal to remake the foundations of algebraic geometry, vastly expanding the scope of the field, subsuming all of commutative algebra and algebraic number theory, and paving the way for the solution of the elusive Weil conjectures, then considered decades or centuries out of reach. No mathematical vision had ever been more radical or more ambitious. Someday I will blog about that vision. Today's post is about genius, eccentricity and intellectual property.
Over the next dozen years, Grothendieck and his disciples—first class mathematicians in their own right—turned the vision to reality, overcoming vast technical obstacles that might have led almost anyone else to change course—but Grothendieck was a force of nature. The completed vision was published in a series of twelve volumes totaling over 6200 pages, the Seminaire de Geometrie Algebrique, known to mathematicians simply as SGA. These in turn rested on a series of 8 foundational volumes, also sprung mostly full blown from the mind of Grothendieck, the Elements de Geometrie Algebrique, or EGA. Every one of these many thousands of pages is dense with content; I happen to have idly picked up a volume a few days ago, read two random paragraphs, and spent two days digesting them.
There is a very real sense in which all subsequent work in algebraic geometry—and much subsequent work in several related fields—consists of commentary on EGA and SGA. These are the indispensable texts. And they're hard to get ahold of. SGA was published by the German publisher Springer-Verlag, but it has long been out of print—and as the population of algebraic geometers has mushroomed (due largely to the fertility of Grothendieck's ideas) there haven't been nearly enough copies to go around. There are scans available on the web, but they are hard to read (they were produced on an electric typewriter, with the mathematical symbols handwritten in), not searchable, and littered with typos.
Enter Bas Edixhoven, a Dutch mathematics professor who conceived the rather marvelous idea of organizing teams of volunteers to re-type all of SGA using modern typesetting software, correcting typos and inserting references to more recent literature where appropriate. Edixhoven secured the blessings of all of Grothendieck's collaborators, but was unable to contact the great man himself, who has spent most of the past two decades in complete seclusion in an unknown location. (More on this below.) Confident that Grothendieck would not oppose the project, Edixhoven launched the project. After eight years, the first two of the twelve volumes of SGA—SGA1 and SGA2—are now complete and available on line.
Last month, the project crashed to a halt when a letter surfaced from the 82 year old Grothendieck, opposing any further dissemination in any form of any of his work. He asks that all such work be "removed from commerce" (which would presumably include the World Wide Web) and from all libraries. He does not threaten legal action (though as far as anyone can tell, he does seem to be the copyright holder), but he appeals to his readers' "sense of shame".
The Edixhoven project is now halted, with the hard work of many volunteers presumably set aside.
Why did Grothendieck send this letter? One can only guess. But in the many years since Grothendieck retired from mathematics and withdrew from society, he has periodically (though not for several years now) released long, eccentric and beautiful manuscripts containing thousands of pages of mathematics, autobigraphy, philosophy and theology, and these give some clues. The Grothendieck Revolution enabled a generation of mathematicians—including Grothendieck's students—to solve a vast array of formerly unapproachable problems, and to formulate and solve new problems that would have been inconceiveable prior to SGA. In his long autobiography Recoltes et Semailles, Grothendieck expresses bitter disappointment about the direction of much of this research. The thrust of his objection—and I am a little hesitant to summarize the subtleties of his position in a single phrase, but here goes—is that everyone's picking the fruit and nobody's tending the garden. Nobody, that is, is doing the sort of deep foundational work that marked Grothendieck's own career. That ongoing disappointment, presumably, has something to do with the letter that arrived last month.
Well, now what? Legally, it appears that Grothendieck does own the copyrights. Ethically, should those copyrights be respected? (No, I do not plan to consult Randy Cohen on this matter.) Should an embittered recluse be allowed to impede the progress of a vast scientific enterprise that he almost singlehandedly created? Does it matter that he waited eight years to object to this project? What are the issues here? Do weigh in.
Edited to add: Several commenters have asked whether Springer still has an interest in the copyright. My understanding is that the copyright has reverted from Springer to Grothendieck under the applicable European laws.