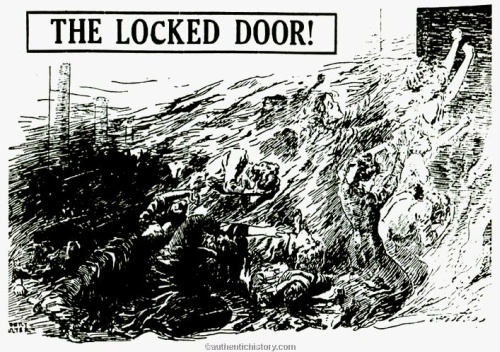 Today is the ninety-ninth anniversary of the legendary fire at the Triangle Shirtwaist Factory, which reigned for ninety years as the worst workplace disaster in New York history. A hundred and forty six workers died that day, most of them young women. Escape routes were cut off by doors that were kept locked to prevent employee pilfering. The main exit from the factory floor was designed so that only one person at a time could pass through; departing workers had their handbags inspected by a night watchman. "It comes down to dollars and cents against human life, no matter how you look at it", in the words of then-Fire Chief Edward Croker.
Well, yes, of course it comes down, at least in part, to dollars and cents against human life (where "dollars and cents" are, of course, stand-ins for "a whole lot of other things we care about"). The interesting question is whether the terms of trade were favorable. In other words: If the workers, in advance of the fire, had been fully informed of all the risks and all the potential consequences, would they have wanted those doors locked or open? Or more generally: When the New York state legislature responded to the fire with over two dozen new occupational health and safety laws, were they compounding the disaster?
I propose to take the question seriously. Would the workers have preferred to have working fire exits?
It helps to know that the labor market in the garment industry was highly competitive on both the supply and demand sides. There were hundreds of garment factories in lower New York, some of them in the same building as the Triangle factory. (The fire was confined to Triangle's three floors.) They drew their workers from the teeming tenements of the Lower East Side, both as direct employees and through independent contractors. In a competitive labor market, workers are paid their marginal product. (For this there is ample theory and evidence, which no economist disputes.) This means that if one additional seamstress can add six dollars a week to the company's revenue, then all seamstresses of that skill level are paid six dollars a week. (Six dollars a week is a historically accurate wage rate.)
Now let's suppose that in the presence of open doors, the typical employee pilfers two blouses a week, with a wholesale value of 60 cents apiece. (Sixty cents is a guestimate based on the retail price of a little over a dollar, which I found in an old Sears catalogue. Two pilfered blouses a week is a number that I just made up. If you don't like that number, feel free to adjust my calculations.) The employee's marginal product falls by $1.20, so competitive pressures force the wage to fall by $1.20 as well. That's a 20% wage cut (though it's partly offset by the pleasure of having a very full clothes closet and an infinite supply of rags).
Now our question becomes: Would a worker, given the choice and fully recognizing the risk of fire, have taken a 20% wage cut in order to keep the exit doors unlocked?
Well—would you take a 20% wage cut in order to keep the exit doors at your workplace unlocked? (I know, I know, they're already unlocked—-but pretend they're not). I wouldn't. Of course this proves little, because you and I live in a very different world than a 1911 garment worker. But the differences cut both ways. On the one hand, the garment worker occupied a wooden building filled with fabric and tissue paper. That makes the exit door more valuable. On the other hand, the garment worker was a lot closer to starvation than we are. That makes the wage cut harder to swallow.
My guess is that the second effect is bigger, but I could be wrong. It might not be too hard to resolve the matter with a little effort, a little arithmetic, and a little bit of data on how the demand for safety varies with income. In any event, I'm extremely skeptical that our desperately poor garment worker would have chosen the wage cut.
What other evidence speaks to the preferences of the workers?
In one direction, there is no pre-fire record of workers offering to take wage cuts in exchange for better fire safety, or of firms anticipating that they could cut their wage bills by putting in better fire doors. There was plenty of labor unrest, but so far as I am aware, it was almost all about wages and hours, not safety. The most straightforward reading is that workers preferred higher wages to more safety, but an alternative reading is that workers were blissfully unaware of the extent of the fire risk.
But in the other direction, there is an extensive post-fire record of workers applauding the new safety regulations, despite the fact that the regulations must have depressed wages. The most straightforward reading is that workers preferred more safety to higher wages, but an alternative reading is that workers were blissfully unaware of how the new laws would affect their wages. Another alternative reading is that pilfering was never the major problem I've been envisioning, so the effect on wages was minimal. (It's hard to measure the effect directly because wages change for many other reasons as well.)
Bottom line: I can't be sure (and I've pointed out several reasons I might be wrong), but I'm guessing that no 1911 garment worker would have wanted to work in a factory with unlocked exit doors. If I'm right, they got the mix of risk and income they'd have chosen. The fire was tragic but the market worked.